Home | Stallions | Mares | Foals | Sold | Sales | Special Features | Links
Weekend Riders Club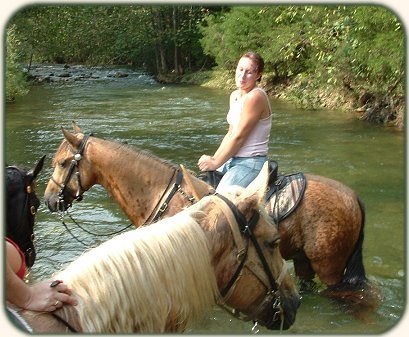 Stephanie & Gambler cooling down in the river.
Riding is, for most of us, a relaxing way to stay sane with our hectic lives. Since many of us don't have the time to do what we enjoy without MAKING it, we decided that the best way to ensure that we made time was to create a tradition. We now have a tradition of "Weekend Rides." Rather than sleeping in on Saturday or Sunday mornings, we make it a point to get up early and head to the barn... our group size and makeup changes each ride, but each of us tries to make as many of the rides as we can.

Our "core" group of riders consists of Stephanie Ford (myself), Gavin (my 5 year old son), Amy Hawkins (boarder, friend and owner of Gambler's Traveler WF), George (Amy's oldest son), Daniel (Amy's youngest son), Debbie Gillespie (my dear friend), Jessie Clatterbuck (my baby sister), and John Ford (my sweetheart). As often as possible we talk and Jay Hawkins (Amy's husband) into accompanying us.


Debbie on Flame

George and Traveler

J

essie & Gavin on Faith




Amy and Daniel Hawkins on Faith


Brenda on Shadow.


Julie on Gambler.


Jay on Oreo

Amy & Traveler


Ford Shop Road
July 2, 2010
Today Traveler officially began his trail training. While he has spent the last few months being started under saddle, Trav hadn't been on a real trail ride yet. Amy felt up to the challenge, so I tacked up his big brother, Midas, and we set off.
Trav and Midas had been stabled together when they were young, and apparently remembered each other Every time we'd stop, they'd lick and groom each other. Trav decided that Midas was his safety blanket. Each time something new would come up, Trav would watch Midas, think about it, and if he was unsure, he'd reach out and touch him gently. Almost like a child would touch it's parents leg in an unfamiliar situation. Once he did that, he would relax. Trav had never experienced cars before and yet, he went along down the road like he had done it all of his life. Most people are relatively respectful of horses on the road, but we did have a few fly by and not pay any attention to us.
Along our way, we met a fellow trail riding enthusiast who offered us the use of his trails. We thanked him and found a lovely path that took us where we needed to go without riding the road the entire time (it cut about 1/2 mile off, which was a nice break and we enjoyed the shade!)
Finally, we reached the river at Ford Shop Road. Trav had never encountered water of any sort - not even little creeks. Midas had learned to swim at our Graves Mountain ride a month or so ago, so when he saw the water, in he went. I thought that Trav would hold back and watch, but as you can see from the photos, he dove right in! Definitely a water horse, that one. He splashed around, stuck he face in the water and had a blast following Midas up and down the river.

Berry Hollow
November 20, 2010
This weekend we opted to start out on the opposite side of Old Rag. We parked our trailer by the White Oak Canyon entrance and rode up to the Berry Hollow fire road. Gavin decided to bring along a handful of Leggos, which meant that Jessie was constantly dismounting to retrieve them until they were banished to zipped pockets.