Pasture boarding has many advantages. Horses are naturally active, social animals. Confining them to a small space (like a stall or small paddock) for long periods of time is stressful. By allowing our horses to live in the most natural environment possible, we reduce nervous behaviors (cribbing, weaving), alleviate excess energy, and improve their mental, physical and emotional heath.




While we believe in natural horse care, we are not "extremists." We seldom feed grain as our pastures and hay provide excellent nutritional value that maintains most horses in top shape, but if a horse requires it for any reason we happily provide it. We keep our horses barefoot most of the time, but if we are going to ride in areas where their hooves could be damaged (read: Old Rag Mountain's abundance of rocks) we will shoe them.

We follow standard vaccination and deworming practices.
We believe that horses kept in their natural state are happier and healthier!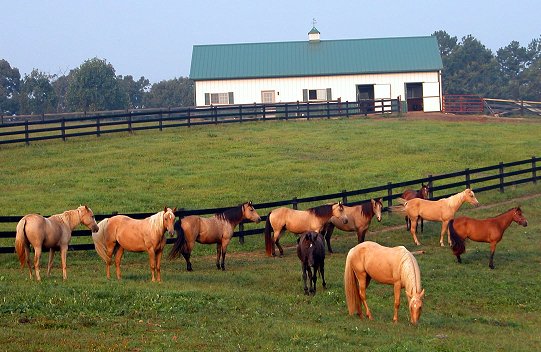 Boarding Packages
Field board is set at $275 per month. This includes deworming on our rotational schedule, free choice ADM minerals, hay, use of the field and access to grass and fresh water. You may visit when you please. Farrier and veterinary fees and similar items are not included, however if you use our veterinarian and farrier, we will set up appointments and arrange to meet them for you to handle your horse at the same time as ours as long as you arrange payment with them directly. *No grain is provided for field board. Feeding owner provided grain can be arranged for an additional charge. Twice daily feeding on our ADM nutrition program increases the board costs to $450/mo.
Amenities

Fresh water supplied by an artisan wells to all fields.

All fields contain mixture of open pasture and hardwood forest.

Boarders are permitted to use of the riding trails throughout the property.

Boarders are allowed use of the 100 x 150' outdoor lighted riding ring with desensitizing obstacles (mail box, bell, umbrella, etc.)

For your convenience there is a restroom in the horse barn.

If trail riding is more your style, you may want to join us for weekend rides. We ride at the farm often and enjoy trailering to offsite locations as well.
Requirements
Only mares and geldings are permitted.

Current negative coggins and health certificate must be provided.

Vaccination records showing that the horse has been vaccinated against the following: Rabies; EWT; Potomac Horse Fever; and Tetanus.

Current de-worming record.

For the safety of our staff, boarders and horses, all horses MUST have good ground and field manners. Horses who are dangerous to humans or other horses will not be permitted. No horses who crib or weave will be accepted.
Who do I contact for more information?
For more information e-mail Stephanie or call 540-825-1300


Westwood Farms - Locust Dale, Virginia 22948 - stephanie@westwoodfarms.net - 540-825-1300