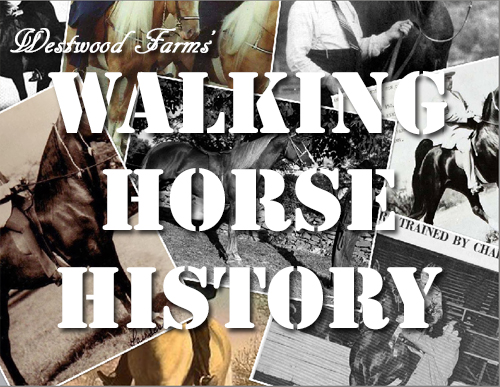 This section of our website is meant to showcase some of the great horses in our own horses' pedigrees. The content in this section is often copyrighted, and we ask that you do not take photos without first asking permission. You are more than welcome to link directly to any of these pages if you want to show off your horse's ancestors. The Voice of the Tennessee Walking Horse Magazine has graciously given us permission to use photos and/or articles that were published in the Voice and many wonderful former owners, trainers and enthusiasts have provided us with photos and stories to use.
We enjoy studying our horse's bloodlines to learn about the fascinating history behind their ancestors, however, we feel that bloodlines alone do not make the horse. Just like humans, horses (even full siblings) inherit different genes and traits. While certain lines are proven to throw certain traits, each horse is an individual, and should be judged as such. As my good friend, Vonda Hamilton, says: "You can't ride the papers!"
Feel free to link to our information pages, but please do not take photos and information without permission, most are copyrighted.


Famous Horses
From television, movies, etc.

Westwood Farms - Locust Dale, Virginia 22948 - stephanie@westwoodfarms.net - 540-825-1300