Reference: I'm Liquid Gold
"Legs" was our "Marilyn Monroe" with her large eyes, long eyelashes, feminine air, "curvy" figure, and blonde mane. These pictures really do not do her justice. She was one of those once-in-a-lifetime drop-dead-gorgeous mares.
We bought Legs from Jim Holmes of Holmes Farm Walkers in Missouri as a 2 year old and had her shipped to Virginia. At two, Legs measured 14.2h. She was slow to mature, but made it to a full barefoot 16h!
Legs' favorite time of day was feeding time. There was no excuse for missing it in her opinion. When she was late to come in one afternoon, I went to check on her and found that she had foaled two weeks early and with no signs! She was nudging her newborn filly along impatiently trying to reach the barn. As soon as I showed up with the Ranger, she looked at me as if to say. "Whew! You've got this now, right?" and took off for the barn so she wouldn't miss dinner. I put "Bonnie" (Gambler's English Lady WF) in the Ranger with me and followed along.
Legs was struck by lightning on June 30, 2006. She was owned by Westwood Farms for the duration of her all-too-short breeding career. She left a legacy in her foals: England's Ivory Knight (cremello gelding) and Gambler's English Lady WF (palomino mare).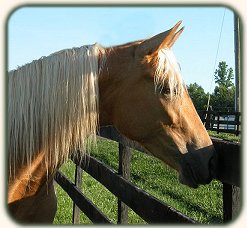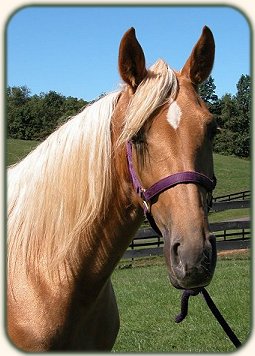 I'M LIQUID GOLD

TWHBEA #20113589

DOB: 05-29-2001
DOD: 06-30-2006


COLOR: PALOMINO
SEX: MARE

HEIGHT: 16h

GENOTYPE:
[ee aa NCr]*

FLUID GOLD
TWHBEA #956054
COLOR: PALOMINO

FAVORITE'S BOLD GOLD E.
TWHBEA #837196
COLOR: PALOMINO

PRIDE'S FAVORITE
TWHBEA #761837
COLOR: CHESTNUT

RUM CREEK PRIDE E.
TWHBEA #796124
COLOR: CHESTNUT
CHRISTMAS GOLD E.
TWHBEA #837344
COLOR: PALOMINO

BUD ENGLAND
TWHBEA #785487
COLOR: PALOMINO

MACK-K LAST TREET
TWHBEA #726193
COLOR: CHESTNUT
ACE'S YELLOW ROSE
TWHBEA #916769
COLOR: PALOMINO

ACE'S SILVER 'N GOLD
TWHBEA #851821
COLOR: PALOMINO

ACE'S SPITFIRE
TWHBEA #744429
COLOR: CHESTNUT
K'S BONNIE BELL
TWHBEA #725566
COLOR: PALOMINO
COURIER'S PRINCESS
TWHBEA #888453
COLOR: CHESTNUT
EBONY'S BOLD COURIER
TWHBEA #752371
COLOR: CHESTNUT

RUNNING STAR
TWHBEA #784339
COLOR: CHESTNUT
OFFSPRING
| | | | | | |
| --- | --- | --- | --- | --- | --- |
| TWHBEA | NAME | COLOR | SEX | DOB | SIRE |
| 20407195 | ENGLAND'S IVORY KNIGHT | CR | G | 9/24/2004 | THE IVORY COAST |
| 20600041 | GAMBLER'S ENGLISH LADY WF | PA | M | 3/27/2006 | GOLDEN GAMBLER |

Westwood Farms - Locust Dale, Virginia 22948 - stephanie@westwoodfarms.net - 540-825-1300