Reference: Sir Joseph's Rocker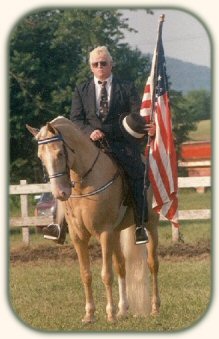 Sir Joseph's Rocker was a talented gold champagne stallion who was well known in the Mid-Atlantic Region. He held many championship titles and produced a legacy of colorful, talented foals. Sir Joseph's Rocker passed away in 2005 he was owned and loved by Curtis and Kathy Tibbs.
"One of the best known gold champagne stallions on the east coast is Sir Joseph's Rocker #833066, a long-striding plantation show horse owned by Curtis and Kathy Tibbs of Kearneysville, West Virginia. Although bred sparingly, Rocky has sired well over a dozen gold champagne foals.

Rocky's dam, Flame's Gold Honey #782972, was sired by Wilson's Gold Flame #691191, sired by Wilson's Band O Gold #591699, sired by Wilson Strollin Gold #540189. But here's where things get tricky. Strollin Gold was by a son of Allen's Red Eagle #390381, whose mamma was the buckskin mare Hendrixson Bonnie #410642 (the grand-dam of the dark-skinned palomino stallion John A.'s Chance #491026, which means that Allen's Red Eagle was also probably dark-skinned). But Strollin Gold's dam was Kate Vaught #444177, a yellow mare by, aha!, Barker's Moonbeam, grandson of Golden Girl."
- Liz Nutter in "Champagne Shades"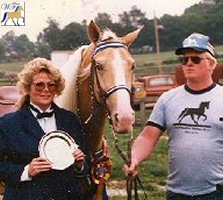 Special thanks to Curtis and Kathy Tibbs for Rocky's photos!
SIR JOSEPH'S ROCKER

TWHBEA #833066

COLOR: GOLD CHAMPAGNE SABINO
MARKINGS: BLAZE, RH SOCK, FLAXEN MANE & TAIL
SIR JOSEPH E.
TWHBEA #762323
COLOR: ROAN

MIKE'S THINGDOER E.
TWHBEA #697459
COLOR: BAY

MY MIDNIGHT MIKE


TWHBEA #

550093


COLOR:

LIVER CHESTNUT
MERRY SCARLET
TWHBEA #580994
ALLEN'S TARHEEL
TWHBEA #696555
COLOR: BAY ROAN
MIDNIGHT SHADOW BOY
TWHBEA #610510
FOSTER'S STAR
TWHBEA #620236
FLAME'S GOLD HONEY
TWHBEA #782972
COLOR: GOLD CHAMPAGNE SABINO
WILSON'S GOLD FLAME
TWHBEA #691191
COLOR: GOLD CHAMPAGNE SABINO
WILSON'S BAND O GOLD
TWHBEA #591699
COLOR: GOLD CHAMPAGNE
STAR LIGHT OF LURAY
TWHBEA #650454
COLOR: BAY SABINO
NAMRON'S LADY B.
TWHBEA #694963
COLOR: BAY
NAMRON'S ROYAL SUN P.
TWHBEA #632208
SUN'S LITTLE RASCAL B.
TWHBEA #642878
| Offspring | TWHBEA # | Foal Date | Sex | Color | Dam Name |
| --- | --- | --- | --- | --- | --- |
| ROCKERS STROLIN GOLD | 882522 | 05/12/1988 | M | GOLD CHAMPAGNE | SUNDOWN H. |
| ROCKERS SWEET N' NUFF | 884562 | 06/25/1988 | M | GOLD CHAMPAGNE | LADY BECKRIDGE B. |
| ROCKY'S GOLDEN GIRL | 881515 | 08/01/1988 | M | GOLD CHAMPAGNE SABINO | DIXIE'S TOP LADY |
| ROCKERS BIT-O-HONEY | 896242 | 10/05/1989 | M | GOLD CHAMPAGNE | SUNDOWN H. |
| "T" | 900508 | 05/09/1990 | S | CHESTNUT SABINO | SUN'S MERRY MONT |
| ROCKERS 14 KARAT GOLD | 900473 | 06/01/1990 | M | GOLD CHAMPAGNE SABINO | HANDSHAKERS GIRL L. |
| ROCKERS TRUE DELIGHT | 900819 | 06/13/1990 | M | CHESTNUT | CHANCE MOTION QUEEN |
| ROCKERS TOP TALENT | 901737 | 08/01/1990 | M | CHESTNUT | THAT GIRL K. |
| BISHOPS SPRING QUEEN | 910095 | 03/21/1991 | M | GOLD CHAMPAGNE SABINO | MACK'S APRIL QUEEN |
| ROCKING THUNDER | 911706 | 04/06/1991 | S | GOLD CHAMPAGNE SABINO | DUDE'S MIDNIGHT STAR |
| ROCKER'S CISCO KID | 911017 | 04/24/1991 | M | GOLD CHAMPAGNE SABINO | CASTLEWOOD SUNBAY |
| ROCKER'S SEC'ED CHANCE | 910539 | 05/30/1991 | M | CHESTNUT | CHANCE MOTION QUEEN |
| ROCKERS GOLDEN HANDSHAKER | 910645 | 06/10/1991 | M | GOLD CHAMPAGNE | HANDSHAKERS GIRL L. |
| WIND'S APRIL ROCK | 920164 | 04/12/1992 | M | BAY | SENATOR'S REBEL LADY |
| SIR ROCKERS FLAME | 922846 | 04/18/1992 | S | WHITE (MAX SABINO?) | FLAME'S GRAY GIRL |
| ROCKY'S HEART OF GOLD | 925173 | 05/26/1992 | M | GOLD CHAMPAGNE | TIMREK'S GOLD COIN |
| ROCKERS SHAKING N'TIME | 921150 | 06/30/1992 | M | CHESTNUT | HANDSHAKERS GIRL L. |
| WIND'S HEART'S DESIRE | 937063 | 04/27/1993 | M | BLACK | WIND'S SHADOWS LINGER |
| MISTY'S ROCK A BILLY | 933672 | 05/15/1993 | G | GOLD CHAMPAGNE | FLAME'S YELLOW MISTY |
| ROCKN GOLD N AMAZIN GRACE | 941936 | 04/20/1994 | M | GOLD CHAMPAGNE | TIMREK'S GOLD COIN |
| KATES PRIDE | 946746 | 06/25/1994 | M | CHESTNUT | DIGGERS LITTLE KATE |
| SIR JOSEPH'S SEC'D CHANCE | 950020 | 03/18/1995 | M | CHESTNUT | CHANCE MOTION QUEEN |
| ROCKERS MORNIN' HAZE | 954581 | 10/01/1995 | M | GOLD CHAMPAGNE SABINO | HAZE WALKING LADY |
| KATE'S RED FLAME | 965377 | 04/06/1996 | M | CHESTNUT SABINO | DIGGERS LITTLE KATE |
| SIR JOSEPH'S GOLD KNIGHT | 960341 | 05/02/1996 | G | GOLD CHAMPAGNE SABINO | CHANCE MOTION QUEEN |
| SISTER MARGRET | 986905 | 04/07/1998 | M | CHESTNUT | DIGGERS LITTLE KATE |
| LADY'S PERFECT MIRACLE | 19910999 | 07/12/1999 | M | CHESTNUT | MARK'S LADY KAY |
| ROCKY'S SWEET DESTINY | 20202132 | 04/03/2002 | M | CHESTNUT | FREESPIRIT SWEET EMOTION |
| ROCKERS MISS HYTONE | 20204017 | 04/09/2002 | M | ? (REG AS "CREMELLO") | GLO'S HYTONE |
| MISS SUNY | 20203145 | 04/12/2002 | M | CHESTNUT SABINO | DIGGERS LITTLE KATE |
| SIR ROCKYS STRAWBERRY BUD | 20408801 | 05/02/2004 | S | CHESTNUT SABINO | COOL'S STRAWBERRY CUPCAKE |
| MITTIE LYNN | 20500084 | 03/19/2005 | M | CHESTNUT | DIGGERS LITTLE KATE |

Westwood Farms - Locust Dale, Virginia 22948 - stephanie@westwoodfarms.net - 540-825-1300