Reference: Stonewall Allen - "Lindy Champion"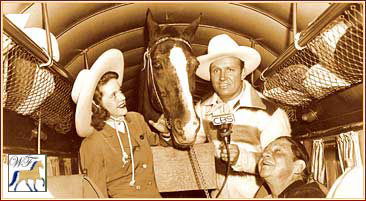 Trigger Jr. wasn't the only walking horse associated with the old Western movies and traveling shows. Another well-known walking horse is Gene Autry's Stonewall Allen aka "Champion Jr."
Lindy Champion (b. 1927 – d. undetermined)
Sorrel-colored with 4 white stockings

Oval topped blaze with a black dot on his nose

Gelding

Registered Tennessee Walking Horse

Made personal appearances

Born May 20, 1927, on the day of Charles Lindbergh's historic flight from New York to Paris, France

Highlights: made aviation history as the first horse to make a transcontinental flight from Burbank to New York; made 1939 personal appearance in Britain
Quoted from Gene Autry's Official Website
"The second Champion was a registered TWH named STONEWALL ALLEN TWHBEA # 360159. He was purchased as a 3 yr old from Grainger Williams of Anitoch, TN. Stonewall Allen, a chestnut with four stockings and a blaze, was trained by John Agee. Stonewall Allen became the famous "Champion" that performed over 20 tricks at liberty while on tour with Gene Autry. Stonewall Allen was never in any movies and was only seen in personal appearances and photographs. Gene Autry did not want to chance his being injured filming movies. His beauty and gentle, dependable disposition made him a real crowd pleaser, performing live on stage before an audience. There were several other Champions featured in the movies but most of them had no TWH, most carried Morgan, QH, and even some Arab blood. Gene Autry also owned these other walking horses: STONEWALLS STORM 390455, LADY BYRD DONALD 390495, JACK'S CAPTAIN 410927, CHRISTIE ELAINE 443298, RED CLOUD V, sold by Calvin Miller to a doctor down in Texas and the doctor sold him to Autry. Red Cloud was also a chestnut with four stockings and a blaze, the trademark color chosen by Autry for his 'Champions'." Shellie Pacovsky of Slush Creek Walkers.

STONEWALL ALLEN
360159 CHESTNUT
BROWN ALLEN
350157 BLACK
HUNTER'S ALLEN
10 CHESTNUT
ALLAN
1 BLACK
ALLIS
85 BLACK
MARY MCDANIEL
992436
EMPIRE HAL
69 BLACK
BY ROY BROWN
12283
NELL HAL
360160 BAY
HAL SUMNER
7 ROAN
BROOKS LADY
990622
PATTERSON'S STONEWALL
12578

Westwood Farms - Locust Dale, Virginia 22948 - stephanie@westwoodfarms.net - 540-825-1300