About Gambler| Photo Album | Online Studbook | Foal Gallery | Video Clips | Stallion Service Contract
Return to Westwood Farms
Gambler's Lucky Draw
Golden Gambler x Commanding Spirit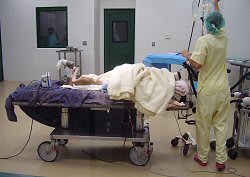 Commanding Spirit decided to foal nearly a month early. She easily delivered a beautiful buckskin colt and all seemed well at first. A few hours later, the colt developed symptoms of colic and went down. Luckily, his owner, Vicki Thomas, was quick to realize something was wrong and called the vet immediately. He had an inguinal hernia and his intestines were coming through an opening into his testicle sac. He was rushed to the Equine Medical Center in Ocala, Florida and underwent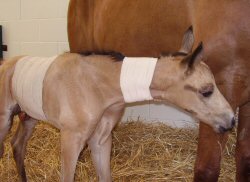 surgery to repair the hernia at the tender age of 6 hours!
Once he was in recovery, he acted just like any other happy, healthy foal. (He has since made a full recovery.) When I spoke to Vicki on the phone, I laughingly called him "Lucky." It just seemed to fit. Vicki came up with "Gambler's Lucky Draw" for his registered name.
Updates from Vicki
January 9, 2008 -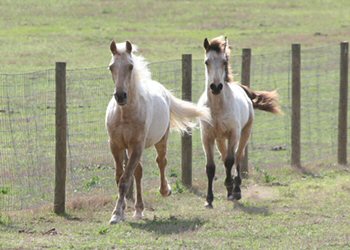 Lucky gave me a scare yesterday morning. I moved Lucky, Sunny, and my gelding Dusty to a different pasture last week away from my mares. This pasture has a shade barn with two stalls divided by 2 x 6 boards. The bottom board is about 12 inches from the ground, give or take several inches because the ground slopes in my pasture. Sometimes both colts will lay down in the same stall to sleep. Victor told me earlier this week he saw all three laying down in the same stall. I only lock them in separate stalls at feeding time, all other times they are free to come and go from the stalls as they please.
It was very foggy yesterday morning, and I could only see Sunny and Dusty standing at the fence line when I took the dogs out first thing in the morning. I didn't see Lucky. At the time, I thought it was odd because he doesn't usually stray very far from the other two, but I wasn't alarmed by it because the fog was very dense and I couldn't see very far into the pasture. I finished walking the dogs and went out to feed the horses.
I fed Fancy and Fire and then trucked out with hay and grain to the Golden Boys. It was about 20 minutes before I actually got out to the Golden Boys with their food from when I first stepped outside with the dogs. When I was about 25 feet from them, I saw Lucky. He was pinned on the ground between the two stalls lying flat on the ground ... as still as a ghost. Most of his body (from the hip forward was in one stall and his hind legs from the hip back was in the other stall). He was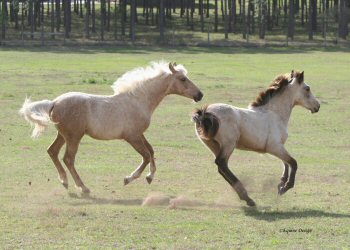 perpendicular to the boards. I dropped the hay and grain and ran past Dusty and Sunny towards Lucky. As I approached him, I began talking to him soothingly, and I saw his ears flick back and forth, but he wasn't too concerned. Actually he was extremely calm. I could not tell how long he had been pinned because the ground around him was undisturbed. It looked as if once he'd discovered he was pinned, he just layed there (waiting for help). Amazing!
I have never seen anything like that before. My other horses would have exploded and tore up the fence in order to get loose. That actually happened to my mare Fire about 10 years ago when a leg got tangled in one strand of barb wire attached to a similar 3-board fence made out of 2 x 6's. She literally tore the fence down. It looked like a truck had ran through the fence and broke the fence post.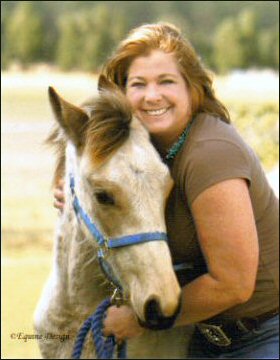 Anyway, Lucky was extremely calm as if he had been waiting patiently for me. As I spoke to him, I reached down and ran my hands down his body to his top hind leg and grabbed the pastern. I pulled as hard as I could. His hind quarters moved maybe 3 inches sideways towards me, but I couldn't move him any more. I was surprised I could move him at all; he weighs almost 400 lbs. There was no one else home to help me, so I decided to go into the house and get the electric screwdriver to dismantle the bottom fence board. I left him and as I walked towards the pasture gate, I turned to check on him one last time before he was out of sight, and HE WAS STANDING UP! I had moved him just enough; he was able to move his legs under him just enough and dig in with his hind legs to get up. I think I only moved him 3 inches, but maybe I moved him more. What a scare.
I promptly added additional boards below the bottom board right after this incident to prevent this from ever happening again. When I was running up to him, I was sick because I really thought he was dead, he was so still. He's definitely got a little angel looking out for him. Maybe he is bound for greatness because that was amazing.
Maybe it also helped that he's been handled quite a bit and that he's been taught to tie and stand and that struggling if futile. He's got an incredibly sensible mind, and I can't wait to ride him on the trails!!!
November 22, 2010
Wanted to tell you that we measured the boys a couple weeks ago (squared up on concrete), and Lucky Beau is 15 hands exactly and Sunny is 15.1 hands. In our training session yesterday, Beau clearly is a little more ahead of Sunny in ground training exercises. Jan has had 6 weeks to work with Beau using the Clinton Anderson ground training techniques and lunging while I was recuperating from surgery. No worries, I'm sure Sunny will catch up quickly just as he proved to me yesterday. While I went through the exercises with Sunny, Jan was simultaneously reviewing them with Beau. Beau was bored and literally falling asleep. Beau is so calm just like when he got caught under that fence 2 years ago and patiently waited for me to find him and help him out of the situation. I believe they will be A+ students. 
We would like to congratulate Jan Chamberlin on convincing Vicki to part from this amazing fellow. We know that the two of you will have many great adventures on the trail.
GAMBLER'S Lucky Draw

TWHBEA #20703108

DOB: 08-17-2007
COLOR: BUCKSKIN
SEX: STALLION
MARKINGS:

GENOTYPE:
[Ee A- N/Cr]

GOLDEN GAMBLER
20112890 BUCKSKIN

Blue Gold




905820 CREMELLO

Jetstar's Sunrider
868692 CHOCOLATE PALOMINO
Delight's Jetstar
702623 BLACK
Merry Man's Charm
698609 Palomino Sabino
Big Star's Gold Lady
790692 Palomino
Eldorado's Big Star
662833 BLACK
Hero Merry Rose
694854 CHESTNUT
Cindy's Image - GH
823206 BAY
Solitude's Eb Master
685658 BLACK
Ebony Masterpiece
560586 BLACK
Go Boy's Lady Ann
550330
Threat's Cinderella
730274 BAY
Triple Threat
612233 Bay
Handshaker's Sue
655566 BLACK
COMMANDING SPIRIT
19907753 CHESTNUT
I'M IN COMMAND
861533 CHESTNUT
A COMAND PERFORMANCE
785883 CHESTNUT
PRIDE OF MIDNIGHT H.F.
661459 BLACK
SUN'S BUTTERFLY
662071 BLACK
COIN'S LUCKY PENNY
811103 CHESTNUT
PRIDES GOLD COIN
742472 CHESTNUT
EBONYS MISS AMERICA W
750204 CHESTNUT
SPIRITS LADYAIRE
940358 BLACK
PRIDE'S DARK SPIRIT
793670 BLACK
PRIDE OF MIDNIGHT H.F.
661459 BLACK
SPIRIT OF MERRY BOY
671855 BLACK
SENATOR'S LADYAIRE
784874 BLACK
EBONY'S SENATOR
641156 BLACK
DELIGHT'S LADYAIRE
716332 CHESTNUT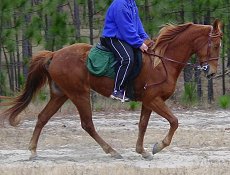 COMMANDING SPIRIT
TWHBEA #19907753
CHESTNUT