About Gambler| Photo Album | Online Studbook | Foal Gallery | Video Clips | Stallion Service Contract
Return to Westwood Farms
Gambler's Texas Holdem WF
Golden Gambler x A Princess In Command

"Levi" was the first buckskin colt produced by Golden Gambler. He was naturally gaited, athletic, curious and friendly from birth. Levi was purchased by Jeff Neal of Tennessee.
Levi's show career is off to a great start! He took the blue in the two year old and under stud colt halter class at Lee Tractor (John Deere) Open Breed Show, Williamston, NC April 2006. Levi took the Reserve Championship title in the 2 Yrs & Under model class at the Tarheel Classic, Raleigh, NC in 2006 and 2007! See his show records for more information!
Levi has a full brother, Gambler's Golden Dream WF.
GAMBLER'S TEXAS HOLDEM WF

TWHBEA #20501302

DOB: 04-25-2005
COLOR: BUCKSKIN
SEX: GELDING
MARKINGS: STAR, SNIP

GENOTYPE:
[EE AA N/Cr]*

*DNA TESTED AND CONFIRMED BY THE UC DAVIS

GOLDEN GAMBLER
20112890 BUCKSKIN

Blue Gold




905820 CREMELLO

Jetstar's Sunrider
868692 CHOCOLATE PALOMINO
Delight's Jetstar
702623 BLACK
Merry Man's Charm
698609 Palomino Sabino
Big Star's Gold Lady
790692 Palomino
Eldorado's Big Star
662833 BLACK
Hero Merry Rose
694854 CHESTNUT
Cindy's Image - GH
823206 BAY
Solitude's Eb Master
685658 BLACK
Ebony Masterpiece
560586 BLACK
Go Boy's Lady Ann
550330
Threat's Cinderella
730274 BAY
Triple Threat
612233 Bay
Handshaker's Sue
655566 BLACK
A Princess In Command
20106356 BAY
COMMAND'S IN DEMAND
958102 BLACK
COMMAND DECISION
866142 BLACK
A COMAND PERFORMANCE
785883 CHESTNUT
EBONY'S MANDY
680018 Color N/A
SUNDUSTS MISS RACHEL
720100 CHESTNUT
SUN DUST PARADE D.
642570
GO BOY'S STINGRAY
657882 CHESTNUT
PENNY'S PJ PRINCESS
950088 BAY
PRIDE'S JUBILEE STAR
764596 BAY
PRIDE OF MIDNIGHT H.F.
661459 BLACK
SUN'S STAR O.
715550 BAY
PRIDE'S PRETTY PENNY
850730 BAY
PRIDE'S PROUD STAR
770087 BLACK
LADY DELIGHT G.
715434 BAY
| Show Name | Show Date | Class Name | Entries | Place |
| --- | --- | --- | --- | --- |
| Lee Tractor (John Deere) Open Breed Show - Williamston, NC | 4-2006 | Model - 2 & Under Stud Colt | | 1 |
| Tarheel Plantation Classic - Raleigh, NC | 2006 | Model - 2 & Under | | Reserve Champion |
| Tarheel Plantation Classic - Raleigh, NC | 2007 | Model - 2 & Under | | Reserve Champion |
| Firecracker Jubilee & Liberty Bell - NC | 7-3-2008 | Country Pleasure - Western | 16 | 5 |
| Firecracker Jubilee & Liberty Bell - NC | 7-3-2008 | Country Pleasure - English | 16 | 6 |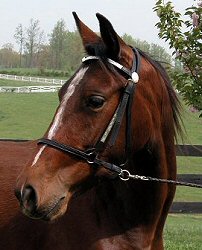 A Princess In Command
TWHBEA #20106356
BAY
Updates From His Owner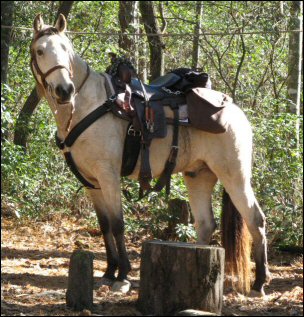 Sent:
Wed, November 18, 2009 9:46:34 PM
Subject:
Levi (Gamblers Texas Holdem)
Just thought you might want to show folks what good trail horses Golden Gambler produces. These pictures were taken at Dupont State Forest in NC.
I was concerned before going because the trails are multi-use and I did not know how he would handle the mountain bikes. Never spooked, not one time at the bikes or anything else on the 5 and 1/2 hour ride. This is a great little horse and with time he is going to be hard to beat as a pleasure trail mount.
Keep 'em coming. Thanks Jeff Neal
Date: Tue, 1 May 2007
Subject: Levi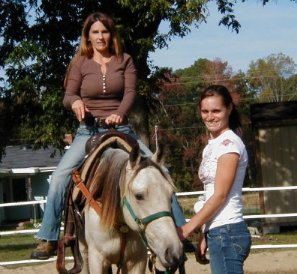 Took Levi to an open show last weekend. He acted fine. We went into an in hand trail obstacle class and he got 5 place...we've never walked over a bridge or other things prior to that class but he did fine. He
got 2nd in 2 yrs and under saddle pleasure type colts. Had lots of people ask "how much was he for sale", and "when do you plan on breeding, like his conformation". so he's definitely something to look at!!! He
has dappled out nicely, looking more and more like his daddy's pix.

Riding him lightly in an O-ring, in our big ring with 3 mares and several geldings. He loves to look at all the pretty horses. I feel like I'm riding a drunk horse, he doesn't know how to walk a straight line yet!! He is very calm to ride, not flighty at all. Emily plans to take him to the TWH/NWHA breed show in May 18-19 (I have to work) and I will take him to the TWH/NWHA fire Cracker Jubilee in July also. It's hard for him to get model pts at these shows because there is no 2 and under, he's competing against mature 5 and older stallions...which doesn't seem fair but he needs the experience.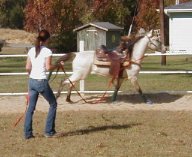 Date: Fri, 1 Dec 2006 12:49:31 -0500 (GMT-05:00)
Subject: Levi
Levi is growing up beautifully. He has been with trainer Emily Kaczinsky since the end of Sept. She states he's a joy to handle. He's lounging with a light weight pony saddle now. She is working the ground with him. She is very pleased with him and says he is very smart. She has not had a minutes worth of trouble with him. Everyone that meets him can't believe he's a stud colt. Hopefully new pics will be on the website soon.
Date: Wed, 5 Jul 2006 21:16:39 -0400 (GMT-04:00)
Subject: cici
Just read the good news. What a long wait to find out what she will have, something leggy. Levi continues to be an amazing boy. I added a bareback pad to his lounging routine. There was absolutely no bucking,
no kicking out, no running wildly...nothing. Acted like he knew it was supposed to be there. He is such a joy to have. He is always wanting to be messed with, even if it means working. Everyone at the barn is
amazed at his disposition. He is looking like his dad more and more. He's a very beautiful, loving, well mannered stud colt. Lots of work to accomplish this year, but with his attitude I think we will make it.

renee'
Date: Mon, 24 Apr 2006 20:56:44 -0400 (GMT-04:00)
Subject: levi

Hello,

just wanted to let you know how Levi's first show went. He acted like he had been exposed for years. He wasn't hard to handle at all. He loaded onto the slant load without hesitation and backed completely out from our 4 slant load just as easily.

He won his first BLUE ribbon in 2 yr old and under stud colt halter. He qualified for the championship and won 3rd our of 5 (including quarter horses) the judge complimented on his confirmation and color!!! Needless to say I was ecstatic. No one's digital was working, but I have it all on video. Of course I had to buy a few professional pics of my boy.

thanks,
renee'
Date: Sun, 19 Feb 2006 10:28:41 -0500
Subject: update

Levi got trimmed Thursday. The farrier was very skeptical before starting, but at the end he stated "wished all first timers were that easy". Levi was a complete gentlemen, stood without moving a muscle, relaxed!!! He is doing excellent. we are working on privates & scary blankets!! He leads with his head down, parking out, lounging. Just a joy to work with. He really wants to please.
Date: Sun, 5 Feb 2006 21:20:21 -0500 (GMT-05:00)
Subject: levi

hey,
took Levi to his first show. He was absolutely terrific. BACKED out of the slant load, walked right into the paddock area without being spooked. Got a lot of compliments, especially when people found out it was
his first and he was only 9 months old. Levi never flinched when the announcer squeaked and squalled over the intercom (even my 8 yo hates that). The other horses didn't seem to bother him. Little children
came out of the wood work to pet him, he seemed to really love that! Got pics of course. Next show is another all-breed, April. He will be registered in 2 and under halter.
Thanks again,
renee'