About Little Gambler| Photo Album | Foal Gallery | Stallion Service Contract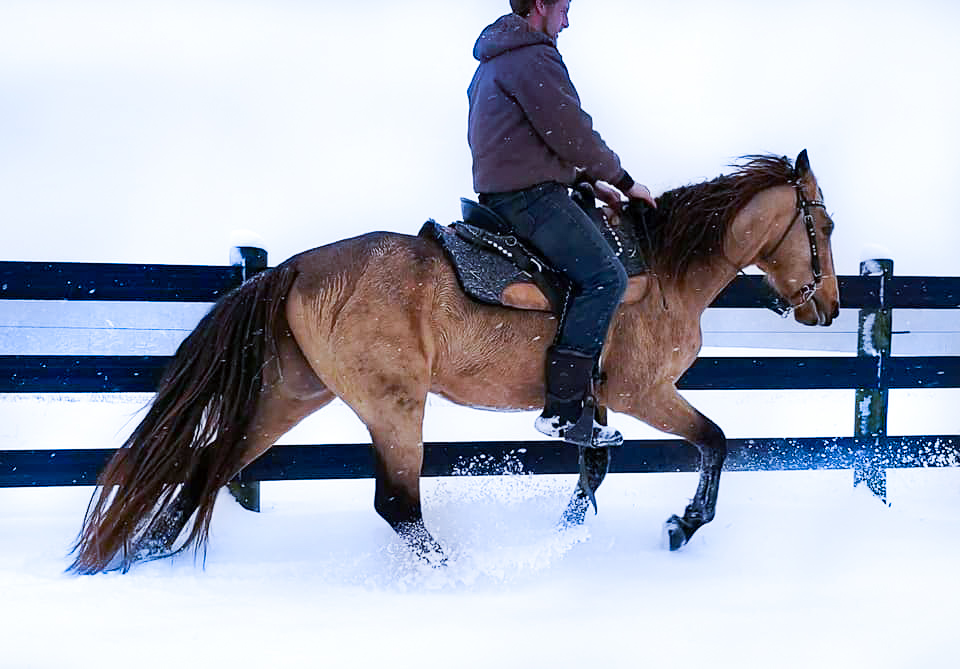 "Little Gambler" is exactly what we've been breeding for. He has a wonderful disposition: kind, friendly and respectful. From birth, he demonstrated a keen intelligence and strong desire to please that I love so much about his sire. He also has the larger bone structure that I love about his dam.
Little Gambler has a true running walk with a great backend. He will walk and shake at both the flatwalk and running walk or you can tighten him up and do a smooth, sailing saddle gait with considerable speed. He does these gaits naturally and has never even worn a shoe at this point. He also has a beautiful canter. He truly represents the versatility that the original walking horse was bred for. He would be competitive in shows and still be a comfortable, smooth and sane mount for trails or field trials.
He stands 15.3h at 4 years of age and measures to be about 16 hands when fully mature. So the barn name "Little Gambler" is a bit of a misnomer as he's larger than his sire in height and bone.
Color possibilities:
He is heterozygous for black (Ee) and cream (Cr-) and homozygous for the agouti (AA). That gives him the same color possibilities that he sire has. He will never throw a black, smokey black or smokey cream foal.
Black/Bay/Chestnut mares: chestnut, bay, palomino, and buckskin foals.

Smokey Black/Buckskin/Palomino mares: chestnut, bay, palomino, buckskin, cremello, or perlino foals.

Smokey Cream/Perlino/Cremello mares: palomino, buckskin, cremello, or perlino foals.

Classic/Amber/Gold champagne mares: chestnut, bay, palomino, buckskin, amber, gold, gold cream, or amber cream foals.
Bloodlines.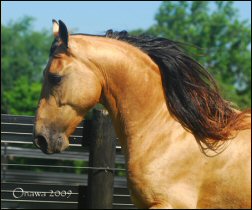 Little Gambler's sire is Golden Gambler, one of the best horses I've ever had the pleasure to ride. Gambler's bloodlines are a unique blend of the western working bloodlines through his sire, Blue Gold (who goes back to Roy Roger's own "Trigger Jr." aka Allen's Gold Zephyr), and the old eastern show lines through his dam, Cindy's Image-GH. Image was known for her true walking horse gaits and lovely disposition. Her sire was by Ebony Masterpiece and dam by Triple Threat.
Little Gambler's dam, Pippi White Stockings is one of the best palomino mares I've ever found. I searched the whole country hoping to find the perfect mare to breed to Gambler and try for a colt to eventually replace him. Golden Gambler was getting older (and while I sincerely hope to have many more years of riding and memories) and the thought of not having a replacement was really starting to concern me. I put out feelers and scoured the web looking for a mare. Not just any mare, mind you...I wanted a dark palomino or buckskin; at least one agouti; 100% smooth, natural gaits; 16+h; STELLAR disposition; intelligent; willing; good bone and muscle...no short order, but that was what I needed. I scoured the country for five years before Lacey Musselman called to let me know that her friends, Rick & Lindsey Payette, were getting ready to move to South America and wouldn't be able to take along their amazing mare, Pippi White Stockings aka "Kate." I immediately called and set up an appointment to go see her. It was love at first ride and I bought her the same day. It was absolutely love at first ride. Kate's easy, effortless running walk was just perfect. She strolls like a walking horse should. No shoes...no rider effort...just natural. She has a to-die-for true running walk with a headshake that comes from reach, not gimmicks.She is a lady in the truest sense of the word. She has polite, genteel manners. She is never pushy or rude. Her demeanor is just perfection: pleasant, content and calm. She is a professional when it comes to riding. Even with foals in tow and chaos around her, she stays focused on her rider. She is out of a great minded, swingy gaited, enormous palomino son of Gen's Armed and Dangerous, Gen's Armed & Golden TF, whose color lines comes from the rare but excellent quality Wilson Strollin Gold. Kate's dam, Porcelain Rose was a square gaited cremello mare from the lines of Chance's Goldust H and the great John A's Chance.
Little Gambler's bloodlines are also unique in that he does not trace back to The Pusher C.G., Jose Jose, Jazz Man or other modern stallions (Gen's Armed & Dangerous being the only modern stallion in his pedigree.) This makes him an EXCELLENT outcross for mares who are heavily linebred to those stallions.
The Tennessee Stud
When "Little Gambler" was born, he had light grey/green eyes. As he does not have a champagne parent (and therefore no champagne gene) I expected them to darken within a week or two. They did darken, but have stayed a medium grey/green for a couple of months, which reminded me of a song that I love: The Tennessee Stud. Hence his name.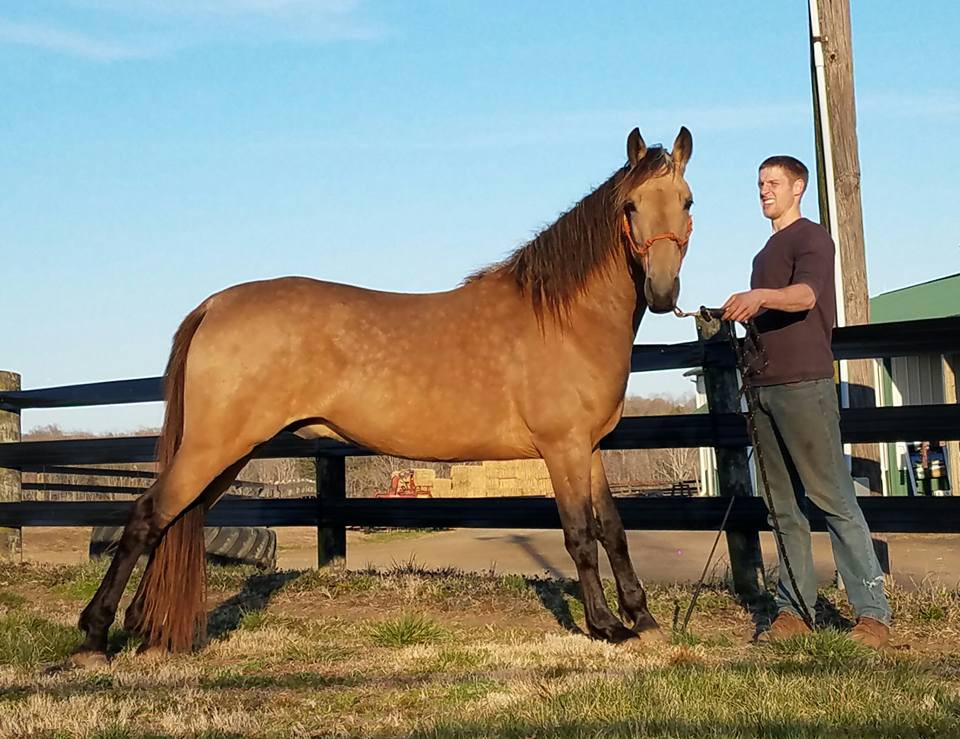 Little Gambler on 3-26-2018. Measuring 15.2h barefoot and still growing.
THE TENNESSEE STUD WF

TWHBEA #21500335
KMSHA #

DOB: 05-16-2015
SEX: STALLION

COLOR: BUCKSKIN
MARKINGS: NONE

GENOTYPE:
[Ee AA NCr]

HEIGHT: 15.3h and growing.
estimated mature height 16h.

GOLDEN GAMBLER

TWHBEA #20112890
KMSHA #200607069
RHBAA #1012883
IPWHR #1454

COLOR: BUCKSKIN
GENOTYPE:
[Ee AA NCr]*

HEIGHT: 15H

Blue Gold
TWHBEA #905820
Color: CREMELLO
HEIGHT: 15.3H

Jetstar's Sunrider
TWHBEA #868692
COLOR: CHOCOLATE PALOMINO

Delight's Jetstar
TWHBEA #702623
COLOR: BLACK
Merry Man's Charm
TWHBEA # 698609 COLOR: Palomino

Big Star's Gold Lady
TWHBEA #790692
COLOR: Palomino

Eldorado's Big Star
TWHBEA #662833
COLOR: BLACK
Hero Merry Rose
TWHBEA #694854 COLOR: CHESTNUT
Cindy's Image - GH
TWHBEA #823206
COLOR: BAY
HEIGHT: 16H

Solitude's Eb Master
TWHBEA #685658
COLOR: BLACK
Ebony Masterpiece
TWHBEA #560586
COLOR: BLACK

Go Boy's Lady Ann
TWHBEA #550330
Threat's Cinderella
TWHBEA #730274
COLOR: BAY
Triple Threat
TWHBEA #612233
COLOR: Bay

Handshaker's Sue
TWHBEA #655566
COLOR: BLACK

PIPPI WHITE STOCKINGS

TWHBEA #20202171

COLOR: PALOMINO SABINO
MARKINGS: BLAZE, ALL FOUR STOCKINGS

GENOTYPE:
[ee AA NCr]*

HEIGHT: 16h

GEN'S ARMED & GOLDEN T.F.


TWHBEA #19903560
COLOR: PALOMINO
HEIGHT: 16.1H


GEN'S ARMED AND DANGEROUS


TWHBEA #887590
COLOR: CHESTNUT


PRIDES GENERATOR


TWHBEA #753925
COLOR: CHESTNUT


MELANA EBONY


TWHBEA #716183
COLOR: BLACK

JAKES' MISTY BLUE


TWHBEA #

846794

ROCK AND ROLL MASON


TWHBEA #570028
GOLD BOND'S CHANCE
TWHBEA #780689
COLOR: CHESTNUT
PORCELAIN ROSE


TWHBEA # 976689




COLOR: CREMELLO


GENOTYPE: ee Aa CrCr
HEIGHT: 14.3h*
*stunted by "hard life"

GOLD DUST'S PRIDE
TWHBEA #932558
COLOR: PALOMINO
CHANCE'S GOLD DUST H.
TWHBEA #685726
COLOR: PALOMINO
PRIDE'S LILLY
TWHBEA #856228
COLOR: CHESTNUT
WHITE CHAMPAIGN
TWHBEA #913285
COLOR: CREMELLO
BUD ENGLAND
TWHBEA #785487
COLOR: PALOMINO

BELLEWOOD ENGLAND
TWHBEA #785486
COLOR: PALOMINO

Westwood Farms - Locust Dale, Virginia 22948 - stephanie@westwoodfarms.net - 540-825-1300