Coin's Hard Cash
(By Brenda Gibson. Published in The Blue Ribbon 50th Annual Edition. 1988)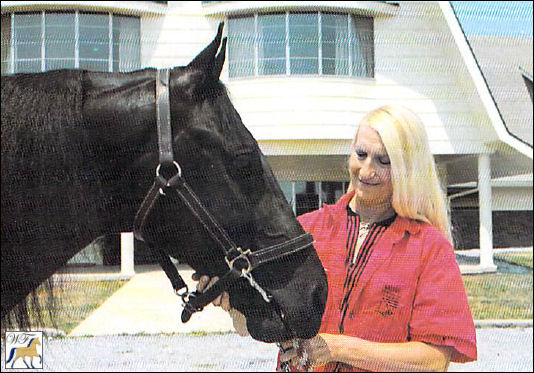 This is the story of a woman who gave up an established partnership and a thriving pet shop business in Atlanta, Georgia to go it on her own; a woman who, with out the help of anyone, made the decision to invest $600,000 in a horse -not just any horse, but Coin's Hard Cash, the 1987 World Grand Champion.
The Walking horse saga of Bonnie Cady began 18 years ago at a Georgia Tech foolball game when the 1970 World Grand Champion, Ace's Sensation, made an exhibition ride during halftime. The crowds were cheering as if their team had just pulled off an unexpected victory.
"It was so exciting watching Ace's Sensation," Bonnie recalls. "I had never seen a walking horse, but I knew that very moment thai one day I would own one."
Bonnie spent the next couple of years mulling the possibility of purchasing a walking horse, and, in 1972, decided to make her first move by buying her own brood mare. Within a few months, her first marc was standing in a breeding line to be bred with ... you guessed it, Ace's Sensation.
Bonnie says that she spent several years 'fiddling' with breeding and raising her own colts before finally giving in and purchasing a show horse. Pride's Easter, in 1979.
And, although Pride's Easter never made it to Celebration stardom, he was the key that unlocked the door -there was no turning back —Bonnie Cady had caught the fever.
Just a few short months after purchasing Pride's Easter, Bonnie's daughter, Cynthia, purchased a show mare named Country Girl and the mother-daughter duo quickly became a familiar sight at shows throughout Georgia and Tennessee. "We both enjoyed showing so much that I decided to expand my interest in the industry," Bonnie said of her humble beginnings. "It was a gradual process, but I just continued adding brood marcs to my growing stock."
After purchasing Go Boy's Caretaker in 1981, Bonnie spent the next six years concentrating on her growing pet shop business. At this point, raising colts and showing horses was still just a 'hobby'.
Then it happened.
"I had gone over to sec Larry Edwards to negotiate a deal for a horse trailer," Bonnie said. "They didn't stop with the horse trailer, though, and began trying to sell me a horse."
"At first, I was just playing along with them. I really had no intentions of purchasing any more show horses. Not right then anyhow," she continued. "Then, they took me over to sec Coin's Hard Cash -a horse I had watched dominate the winner's circle at the Celebration since the time he was two years old. My willpower was gone."
Bonnie started negotiating with Herb Murrath of Stone Mountain, Georgia in February of last year, and by June had finalized the $600,000 deal transforming her 'hobby' into a full-time business practically overnight.
What makes someone spend more than a half million on one horse?
"It was just something I wanted," Bonnie said. "Coin's Hard Cash seemed like a role model walking horse to me —I really felt like he had everything a walking horse is supposed to have."
As it turned out, Bonnie's instincts were right about Coin's Hard Cash. In fact, it was within two months of the purchase that she was posing in the winners' circle with the 1987 World Grand Champion and Rider/Trainer Larry Edwards. Bonnie's first blue ribbon at the Celebration turned out to be 'THE' blue ribbon.
"It was a dream come true," Bonnie said. "I don't think I have ever been so high."
Since winning the slake in 1987, Bonnie has plunged headfirst into the walking horse business. She has traded in her 40 and 85 acre farms in Georgia for the 318-acre Horse Hub ranch as well as a 521-acre cattle operation called Rich Valley Farms near Shelbyville. She currently owns approximately 100 horses, five of which are show horses in training. As for Coin's Hard Cash, he has been retired from the show ring and is keeping Bonnie's breeding business in full swing.
Bonnie Cady's next goal? To raise an offspring that can win the title of World Grand Champion. "Now, let's see, my first colts should be born this fall and they'll need to be around five when they compete in the big stake," said the 51-year-old free-spirited business woman. "Yes, I guess you would say my next goal is 1993."
And, with her gumption and business sense, she might just make it Who knows? She might even be at the reins.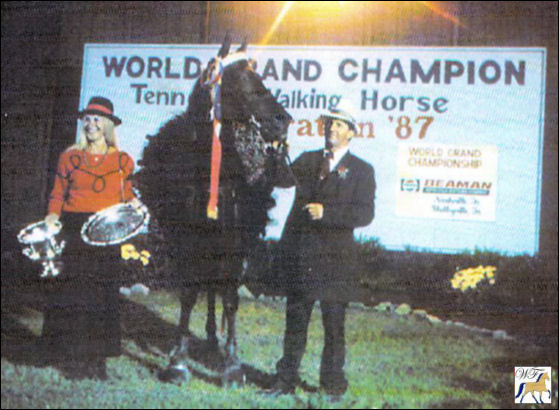 Both Sides of the Coin — Cady and Edwards
It was nothing short of a miracle.
At least, that's the way Rider-Trainer Larry Edwards sees his 1987 World Grand Championship victory at the reins of Coin's Hard Cash.
"It was like a fairytale come true," said the Dawson, Georgia native. "All the odds were against us, but we made it... we really made it."
Now, it's not that Coin's Hard Cash was considered an underdog in the competition. Quite the contrary as this bold-walking, high-headed black stallion was pegged early in the season as a definite contender for the ultimate in Walking Horse titles. His trainers, Larry and brother Gary, knew that Hard Cash, who had been making his presence known at the Celebration since the age of two, was a force to be reckoned with.
So, what was the big problem? Why was everyone so surprised when Coin's Hard Cash was crowned champion walking horse of the world?
"During the first five days of the Celebration, everything was going fine. Hard Cash had already won the Division A Aged Stallion Over 15.2 Class and was looking great during his workouts. Our confidence was running high," Larry recalled during a recent phone interview. "But, then, on the morning of the sixth day, our hopes were shot down just like that."
"That morning when we went to check on him in his stall, we found that he was unable to move," Larry continued. "He appeared to be lame in his right front foot and we knew we would be unable to work him." Refusing to give up, the Edwards brothers sat up with their prized entry for the next three nights.
They admit to doing a lot of praying knowing that their time was rapidly running out. "I'm telling you, things were really looking bleak. We were not able to put a saddle on him Tuesday, Wednesday, Thursday or Friday," Larry said. "All the other trainers were stopping by our stalls and telling us that we may as well 'forget it' and go on with our other horses. In all honesty, I was starting to agree with them ... until Saturday morning, that is."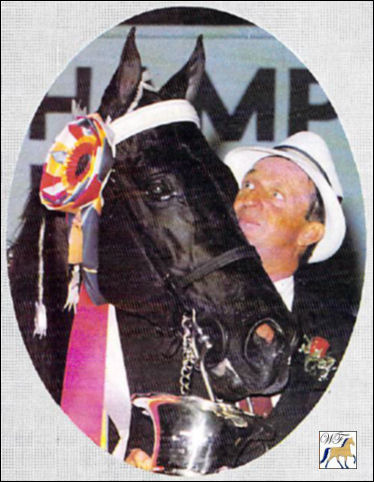 On Saturday morning, just hours before the big performance, the Edwards decided to put a saddle on Hard Cash and try him out. After all, they had stayed by his side and doctored him for four days. It certainly seemed worth a try.
"It was really a last ditch effort," Larry explained. "We put the saddle on him, crossed our fingers, and rode him for five minutes. Much to our surprise, he looked great and we were back in the race."
Feeling certain that his streak of bad luck had to be over, Larry Edwards entered the Celebration show ring Saturday night to the cheers of some 25,000 fans. The fact that Hard Cash had only been worked five minutes in the preceding five days didn't appear to bother the rider in the least.
"I knew Hard Cash had it in him," Larry said. "He is undoubtedly the smartest horse I've ever worked with. He has so much natural ability the fact that he had only been worked for five minutes before the show did not really matter."
In his first few laps around the ring. Hard Cash showed the crowd what he was made of. He rounded the historic oval of the Celebration with his head held high as if he could smell victory. Little did he, or his rider, know that there was still one more hurdle to clear before the victory pass. The bad luck wasn't over yet.
Hard Cash threw a shoe from his right front foot, the foot which because of a center crack had plagued him all week. Before he could continue his battle with his competitors, he would have to beat the clock. According to Regulatory Committee rules, Celebration farrier Louie Staton only had 10 minutes to replace the thrown shoe. If he didn't. Hard Cash would be eliminated from the rest of the competition.
With the heat of camera lights and the tick, tick, tick of the stop watch hovering over his head, Staton went to work. And although the official Celebration farrier admits to being extremely nervous over the situation, he made it with just six seconds to spare.
"I really didn't have any idea we would make it. I mean, we had had so many problems I had almost given up," Larry said. "It was a miracle. The Man up above helped us out that night —that I know for a fact."
Back on the rail, tensions were run ning high as 13 stallions gave all-out performances. But, when the dust settled and the results were in, Hard Cash and trainer Larry Edwards were "THE" winners.
Coin's Hard Cash was foaled on May 18, 1982, bred and raised on the famed Harlinsdale Farm in Franklin, Tennessee. His bloodlines trace back to Pride of Midnight H.F. and, ultimately. Midnight Sun. Hard Cash was purchased as a year ling by Reese and Steve Smith and Bill Freeman, all of Franklin.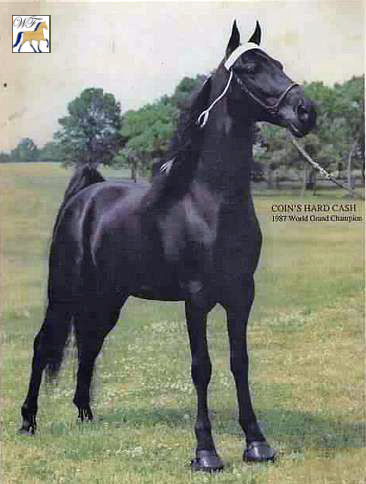 In May of the following year, his two year old season, the beautiful black horse attracted the attention of Larry and Gary Edwards and soon became the property of Herb Murrath of Atlanta. He was purchased by Bonnie Cady in June 1987.
While under the masterful training hands of the Edwards brothers, owners of Carl Edwards and Sons Stables in Dawson, Georgia, winning became a sort of tradition for Hard Cash. Not only did Hard Cash take the Two-Year-Old Stallion Class and the Two-Year-Old Stake at the Montgomery Southern Champion ships during his showing career, but he was also named Three-Year-Old and Four-Year-Old World Champion in 1985 and 1986, respectively.
Hard Cash's World Grand Champion ship marked a first for the Edwards brothers as he was the first horse under their direction to gain this honor. It had been 37 years since their father, the late Carl Edwards, had ridden to the 1950 World Grand Championship aboard Old Glory's Big Man.
"It was one of the greatest feelings I have ever had, and, was most unexpected," Larry said before hanging up the phone. "It was nothing short of a miracle."