Reference: Pride of Midnight H.F.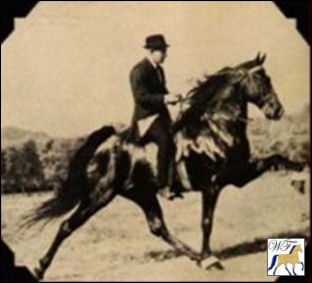 Photo courtesy of Lisa of Pride's Noble Walkers.
Photo taken from The Voice of the Tennessee Walking Horse.
Pride of Midnight H.F. was a naturally high-stepping stallion with the attitude of a true show horse. While he was a successful show horse, his true success can be measured by his success as a sire. Pride of Midnight (POM) is one of the most influential walking horse sires in history. His offspring possess uncommon beauty and naturally animated movement. While POM colts are sensitive and easy to train, they are noted for the fact that they will not take abuse and can't be "fixed" like other lines.
Pride of Midnight H.F.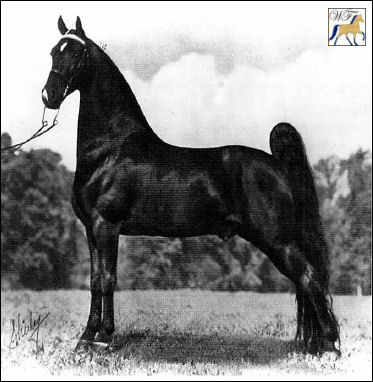 by Sarah Gee for the Tennessee Walking Horse Sire Summary
By Midnight Sun and out of Pride Of Stanley, Pride Of Midnight H.F. was bred by H.L. Worrell of Solitude Stock Farm in Goodlettsville, Tennessee. As a weanling, he caught the eye of Wirt Harlin and was subsequently purchased by Harlinsdale Farm of Franklin, Tennessee. As a two-year-old he was placed in training with Dot Warren.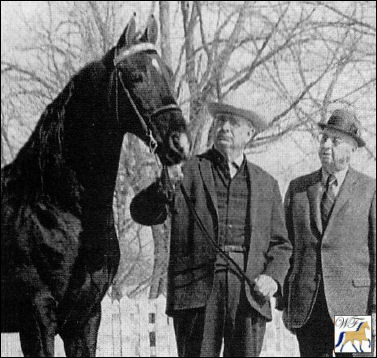 Recognizing his ultimate potential, Warren took his time with the gifted stallion. Pride Of Midnight H.F. made his show ring debut in 1970 as a four year old at the "Early Bird" show in Fayetteville, Tennessee. By the following Monday morning he was the toast of the industry. He showed six more times in 1970 always exiting the ring with a blue ribbon.
As a four year old, in addition to being active on the show circuit, Pride Of Midnight H.F. was bred sparingly. Although small, his first foal crop produced both Pride's Airy Son and Pride's Merry Gold. Both of these horses went on to great show ring acclaim.
After seven stellar show ring appearances, Pride Of Midnight H.F. was retired full-time to the breeding shed where he quickly became one of the industry's most sought after stallions. His combination of natural gait, beautiful conformation, agreeable disposition, and championship bloodlines made him all but irresistible to breeders the nation over.
Over the years, as he consistently produced contender after contender, his reputation grew and the horse that Wirt Harlin called his favorite, achieved legendary status. He sired four World Grand Champion Tennessee Walking Horses - Prides Secret Threat, Delight Of Pride, Prides Final Edition, and Pride's Jubilee Star. He also produced the great Prides Generator who could easily be called the greatest sire of his generation.
Following in his sire's hoofprints, Pride Of Midnight H.F. played a major part in continuing the Harlinsdale tradition of producing the finest Tennessee Walking Horses. He also played a vital role in ensuring the continued improvement and expansion of the breed through the tumultuous 1970s and 1980s. -Sarah Gee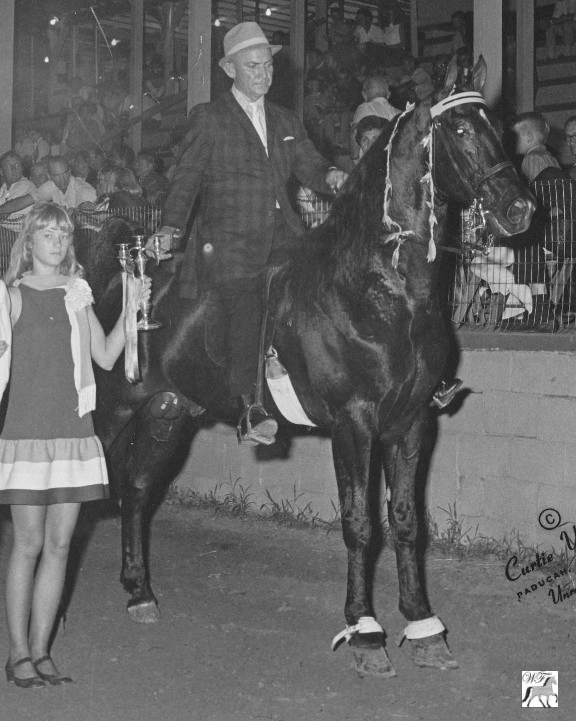 In 1965 MIDNIGHT SUN died. Harlinsdale Farms had three colts to carry on his bloodlines: PRIDE OF MIDNIGHT, SUN'S DARK BEAM and MIDNIGHT ALLEN. They were from the last crop of MIDNIGHT SUN colts. They decided we would not let any of them go. The colts were broken out at Harlinsdale and then sent to Dot Warren for finishing. It was decided that they were all keepers. Their judgment was vindicated; they all proved to be very good breeding horses. When they were 4 years old, they were put into service. PRIDE didn't breed many mares until he was five, so they showed him the year he was four. It was unfortunate that PRIDE did not catch on early, but Mr. Harlin believed in him and told people as early as 1971, "Believe me, this horse is going to turn this industry around'.
PRIDE'S dam was owned by Mr. Worrell at Solitude Stock Farm, but he was owned by Harlinsdale Farms before he was registered. PRIDE had a funny personality. He was pop-eyed and he stood up in the cross-ties, he was a show horse from the day one. He could do a lot when Dot Warren was riding him, but when they decided to take him to the Celebration they brought him right back home and left him from that day forward.
Harlinsdale Farms had a hard time convincing folks that they had the horse of the future but Pride had a lot of freedom up front. At the time, the industry didn't have the big foot as they do now and it took a lot get a horse's foot up. But PRIDE could do it with a lot of ease and he had a natural kind of snort and show horse ways. The trouble was, a lot of trainers put him down hard. They said you can't fix [sore] his colts - they won't take it. Such trainers were missing the message that Harlinsdale Farms was trying to convey which was: "We've got a horse that you don't need to fix that way. He does it naturally." But they had a hard time. There were some very vicious attacks against Harlinsdale Farms and PRIDE OF MIDNIGHT during that period. The result was that over half of the colts PRIDE sired, were sired during the last two years that he live. To quote Bill Harlin, "He was put down so hard by so many people "You can't fix his colt"….That is a blight on our industry as far as I am concerned."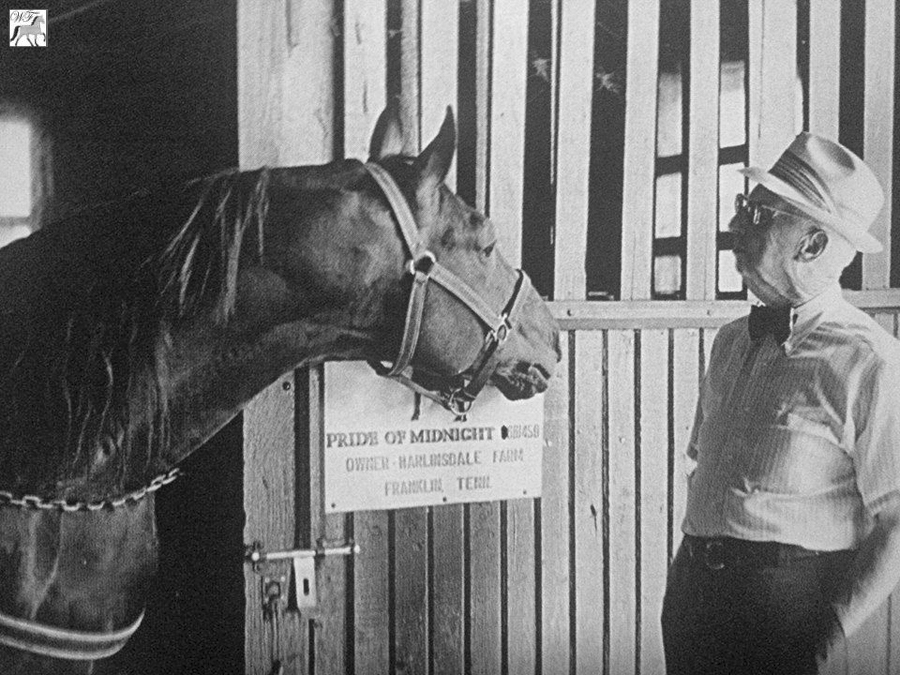 In 1979, PRIDE passed away after two colic attacks. That was the last times Bill Harlin saw his father in tears.
-TWHBEA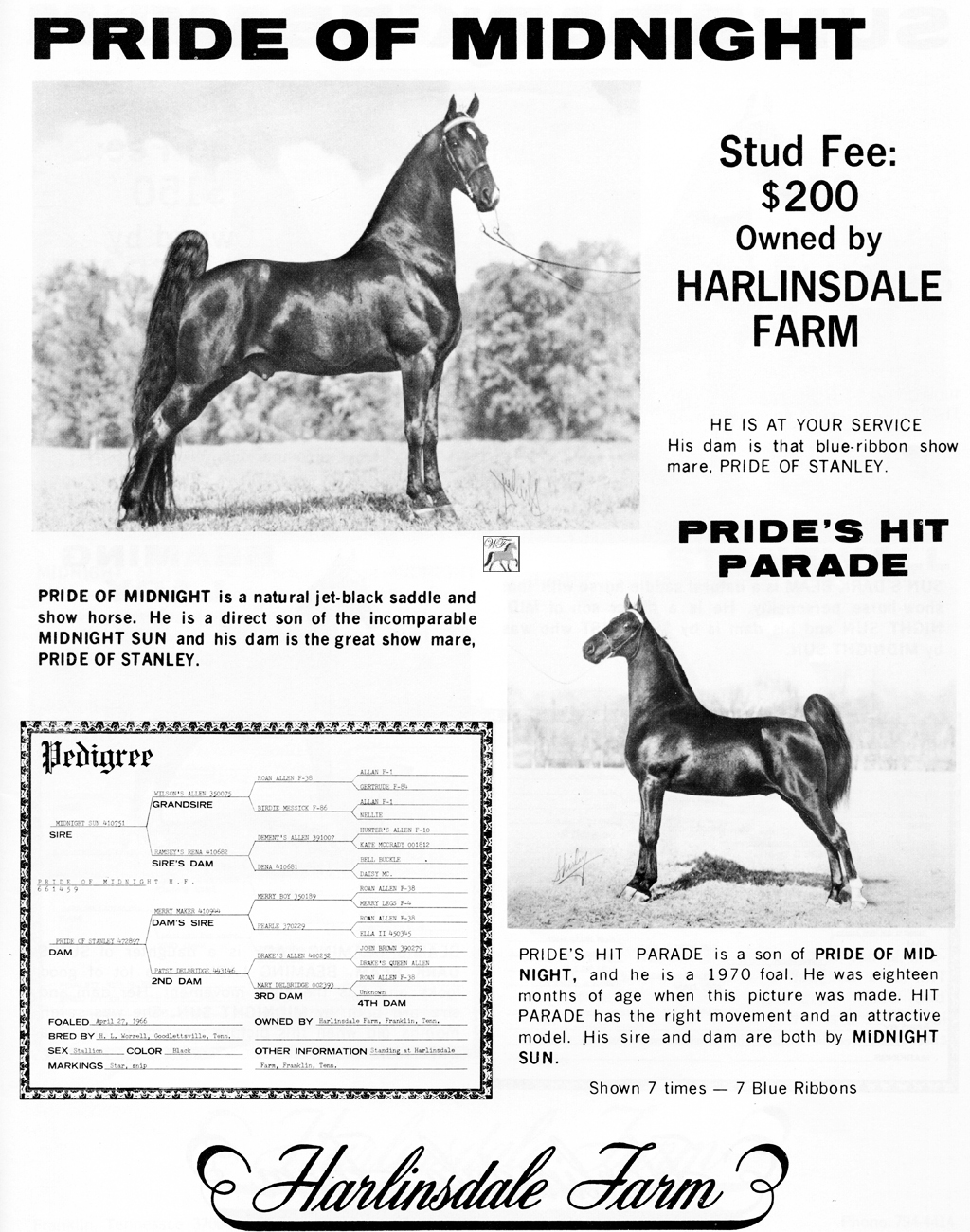 PRIDE OF MIDNIGHT H.F.

TWHBEA #661459

DOB: 1/01/1966
DOD: 8/11/1979

COLOR: BLACK

MIDNIGHT SUN


TWHBEA #410751
COLOR: BLACK


WILSON'S ALLEN


TWHBEA #350075
COLOR: CHESTNUT

ROAN ALLEN


TWHBEA #F-38




COLOR: CHESTNUT SABINO




HEIGHT: 15.3H



BIRDIE MESSICK
TWHBEA #86
COLOR: GREY

RAMSEY'S RENA


TWHBEA #410682
COLOR: BAY
MARKINGS: NONE
DEMENT'S ALLEN
TWHBEA #391007
COLOR: CHESTNUT
DENA
TWHBEA #410681
COLOR: BAY

PRIDE OF STANLEY


TWHBEA #472897
COLOR: CHESTNUT SABINO
MARKINGS: BOTH HIND STOCKINGS, BALD, MIXED MANE AND TAIL.


MERRY MAKER


TWHBEA #410944
COLOR: CHESTNUT

SABINO


MARKINGS: BOTH HIND AND NEAR FORE STOCKINGS, OFF FORE CORONET, BLAZE, FLAX MANE/TAIL.

MERRY BOY
TWHBEA #350189
COLOR: BLACK SABINO

PEARLE
TWHBEA #370229
COLOR: CHESTNUT SABINO
MARKINGS:BOTH HIND STOCKINGS, BALD.

PATSY DELBRIDGE


TWHBEA #

443146




COLOR: BAY




MARKINGS: STAR, SNIP.

DRAKE'S ALLEN
TWHBEA #400252
COLOR: BAY
MARKINGS: STAR
MARY DELBRIDGE
TWHBEA #992373
COLOR: BAY
NOTABLE OFFSPRING

Westwood Farms - Locust Dale, Virginia 22948 - stephanie@westwoodfarms.net - 540-825-1300