Pride's Generator
(Reprinted with permission from Voice of the Tennessee Walking Horse magazine, August/September, 2001)
By Vickie Presley Mazzola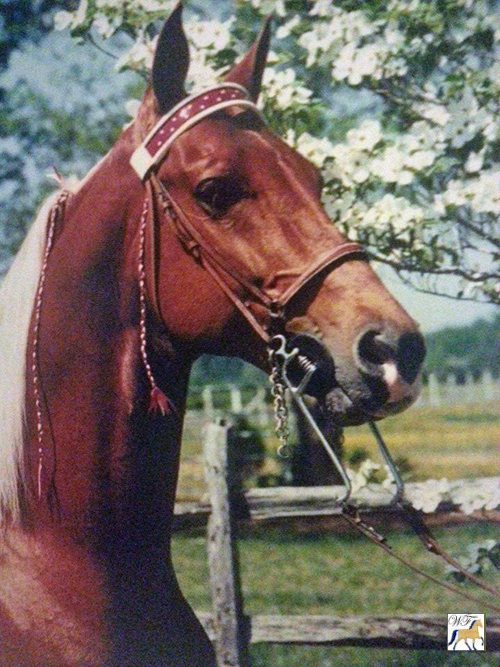 The Tennessee Walking horse industry has lost one of the most influential sires of our day. Prides Generator, 25, was humanely euthanized on July 5, 2001 after complications from colic.

Pride's Generator has been a household name among walking horse enthusiasts for many, many years. According to TWHBEA registration records, there were 2292 colts sired by Generator making him the leading production sire of all time. He has been the Association's Sire of the Year in both total points (number of offspring) and percentage points (percentage of show ring winners) for EIGHT STRAIGHT YEARS!!

His distinctive coloring of sorrel with a flaxen mane and tail gave the show ring much flare in the late 70's and early 80's.

"I remember the first time I showed him," says Gary Edwards. "We were at the trainers' show in Louisville, Kentucky. We walked into the ring with his head held high and his white mane and tail flowing. You could hear a collective gasp from the stands. They'd never seen anything like him before. This was before even the Pusher colts began to be popular, and people couldn't get enough of him."

Gary Edwards of Carl Edwards and Sons Stables directed Prides Generator throughout his show ring career. The team captured the two-,three- and four-year old World Grand Champion titles as well as a host of other impressive wins.

Gary also had the privilege of presenting Generator at the 1984 Olympic Games in Los Angeles in the Cavalcade of Champions daily exhibitions. "When he walked into that stadium, the crowds went wild with standing applause and cheers. It gave me chill bumps to hear them. Generator just had that presence about him. He was a 'look at me' horse, and he wanted everyone to know it."

Prides Generator was one ambassador that was destined to do just what he did. The stallion was bred by Harlin Hayes at his historic Harlinsdale Farm in Franklin, Tennessee, and born on December 2, 1975. He was sold to Robert Lowe, Jr. in 1977 then to Carol Osborn and Dianne Moss in 1978. He won the Two-Year-Old Stallion Reserve World Championship and the Two-Year-Old World Grand Championship for them at the 1978 National Celebration with Gary in the irons.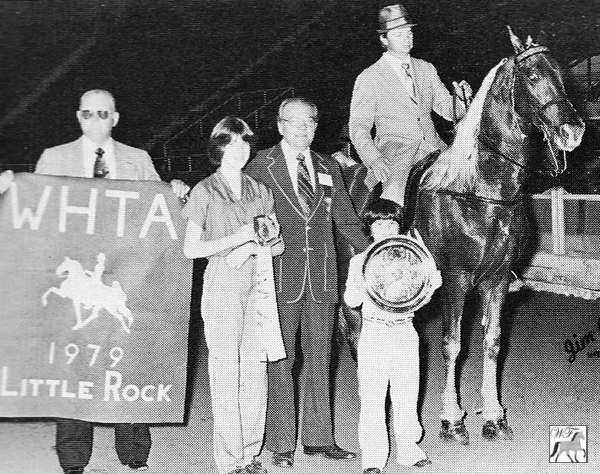 In 1979, Floyd Perkins and S.W. Beech bought Prides Generator and he continued in training with Gary at Carl Edwards and Sons Stables. A few months later, Mr. Perkins became Generator's sole owner. Generator took control of the Celebration to win the Three-Year-Old Stallion World Championship and the Three-Year-Old World Grand Championship. He returned to the 1980 Celebration to win the Four-Year-Old Stallion World Championship and the Junior World Grand Championship.

Ben and Linda Brogden purchased Generator a few months after his four-year-old wins, followed by James A. and Billie Johnson in 1982. At the beginning of 1983, Claude and Linda Crowley selected Generator to be Linda's amateur show horse. However, there was already a demand for him as a sire and it continued to grow. The Crowley's decided to place Generator at S.W. Beech Stables in Belfast, TN, to begin his career as a breeding stallion. Little did anyone know how influential this beautiful horse would become to this young industry.

Perhaps the late Claude Crowley had some idea. He told Gary that he was going to promote Generator as a sire. "Generator would have to pull it off in the end," remembers Gary, "but Claude was committed to getting his colts out where people could see what he produced."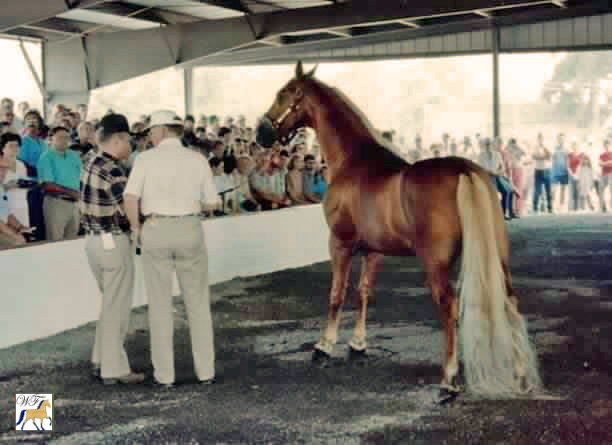 The success of Prides Generator was not a mistake, his pedigree was filled with Champions and World Champions, a fact that reinforces the commitment to well-bred horse. Generator was line bred Wilson Allen. He was by Pride Of Midnight who produced a legacy of world champion offspring. Pride Of Midnight was the product of twice world grand champion Midnight Sun and Pride Of Stanley, a show mare who won nine Celebration ribbons herself.

Generator's Dam was H.F. Spirits Nell who was by Spirit Of Midnight. Spirit Of Midnight was the 1959 Reserve World Grand Champion and tied third in the stake in 1962 and 1963. Generator was the product of a genuine commitment to continue improving the breed.

Claude Crowley obviously knew that. "There was not a man more committed to the success of a horse," said Gary. "He wanted Generator to be the horse for everyone."

The Crowleys deliberately kept Generator's stud fee extremely affordable for a stallion of such quality. And, even as his popularity grew, they insisted that the stud fee remain low.

Keep in mind that this was in the years before shipped semen transformed the breeding marketplace. Mares were brought directly to S.W. Breech Stables and bred at the farm. Due to that volume alone, the decision was made not to add a shipped semen program to Generator's books when the technology became available. That decision remained in effect until his death.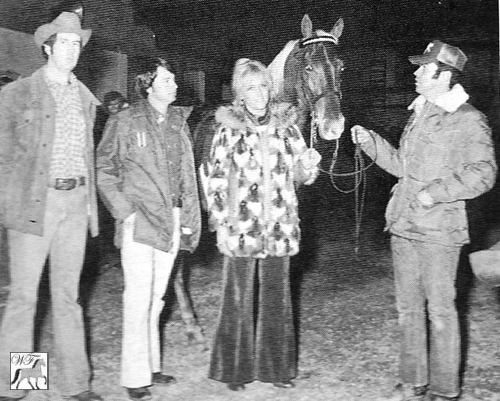 In 1995, Prides Generator was moved to Waterfall Farms just outside of Shelbyville. There, Dr. Mike Harry oversaw his breeding program. Nancy Lynn Beech, granddaughter of S.W. Beech, tagged along shortly afterwards to handle the contracts and breeding records for Generator and the other stallions at the farm. She remembers Generator from her childhood days and all that he's meant to people. "What he's given to the industry is tremendous. In his lifetime he's sired two world grand champions and over one hundred world champions. That's double what any other stallion has done in the past twenty years."

Central Georgia Equine Services in Fort Valley, Georgia, was the home of Prides Generator for the last three and a half years of his life. "He was a unique living legend," said owner Charlene Cook, DVM. "I have yet to see a stallion who could do so much for a mare. He shortened the head and added a big, expressive eye and that long, swan-like neck. He shortened the back and added angle to the hocks. And better yet, he added natural gait and talent."

Dr. Cook added that she'd never forget him show. "He was so high-headed, ears pricked forward with a bold, animated flat walk. Gary always had him perfectly presented, and I felt sorry for the judges who had to watch all the other horses in the class. He was breathtaking in a sea of black horses."

Gary Edwards agreed. "Prides Generator has done so much for this industry. He was special in every way. He was easy-going and nice to work with. When he entered the show ring he had a presence that will probably never be forgotten. He had every thing a show horse needed, and he had the proven ability to pass it along to his colts. There will never be another horse like him."