About Gambler| Photo Album | Online Studbook | Foal Gallery | Video Clips | Stallion Service Contract
Return to Westwood Farms
Gambler's Big N Rich WF
Golden Gambler x My Buckskin Angel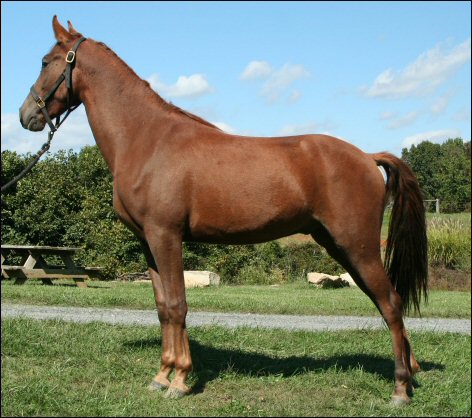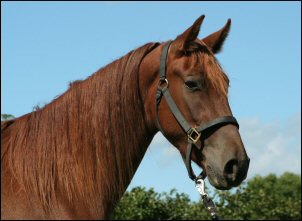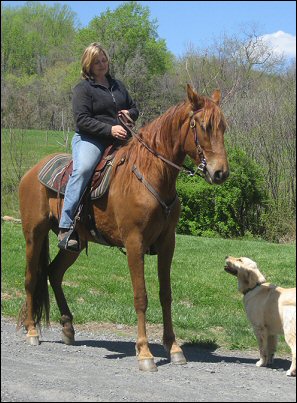 When I bred the buckskin mare, My Buckskin Angel, to Gambler I wasn't expecting a chestnut colt, but I was far from disappointed - his deep shade of chestnut is truly beautiful and more importantly, he was the superb quality I had hoped for - intelligent; natural 4-beat gait (with excellent stride and lift); his sire's pretty head; dam's hooked ears; short back; long legs; great substance and bone; and a size I had never imagined!
He was born as tall as most colts are at nearly a month. His dam is a true 16.1 hands and very leggy and the colt's legs we as long as hers from birth! He's going to be a massive horse. Big N Rich measured 16.1hands on May 1, 2008 at just over two years and he still has some growing to do!
In March of 2009, Debbie took him to her trainer in Maryland to be started under saddle. He is now going well under saddle and demonstrating just how wonderful that natural gait of his is! He is smooth as silk and has Gambler's strong desire to please and common sense. I've personally ridden him through mud, steep declines, water and he doesn't hesitate. He is so smart and just a joy to ride and handle and he will only get better with time. In May of 2010, Thunder went into training with the phenomenal Joe London for some finishing. As usual, Joe did a phenomenal job and Thunder is doing better than ever!
Big N Rich two full siblings, Gambler's Vegas Angel WF and Gambler's Vegas Showgirl.
When Jim and Kathy Brown of Baltimore, Maryland lost their beloved palomino gelding, they returned to us looking for a replacement after purchasing Thunder's dam (My Buckskin Angel) and full sister (Gambler's Vegas Showgirl) the year before. We are thrilled that Thunder is joining the Brown Family in Maryland. Congratulations Jim and Kathy!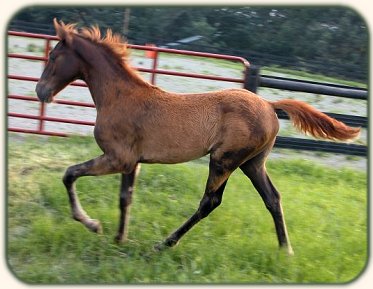 For more photos, visit Debbie's album.
GAMBLER'S BIG N RICH WF

KMSHA #eligible
TWHBEA #20600507

DOB: 04-13-2006
COLOR: CHESTNUT
SEX: GELDING
MARKINGS: NONE

GENOTYPE:
[ee A- N/Cr]

GOLDEN GAMBLER
20112890 BUCKSKIN

Blue Gold




905820 CREMELLO

Jetstar's Sunrider
868692 CHOCOLATE PALOMINO
Delight's Jetstar
702623 BLACK
Merry Man's Charm
698609 Palomino Sabino
Big Star's Gold Lady
790692 Palomino
Eldorado's Big Star
662833 BLACK
Hero Merry Rose
694854 CHESTNUT
Cindy's Image - GH
823206 BAY
Solitude's Eb Master
685658 BLACK
Ebony Masterpiece
560586 BLACK
Go Boy's Lady Ann
550330
Threat's Cinderella
730274 BAY
Triple Threat
612233 Bay
Handshaker's Sue
655566 BLACK
MY BUCKSKIN ANGEL
20015187 BUCKSKIN
CHANCE GHOST MAN
901456 PALOMINO
CHANCE'S GOLD DUST H.
685726 PALOMINO
JOHN A'S CHANCE
491026 PALOMINO
BONNIE'S RED GLORY
561304 BAY
FAVORITE GHOST LADY
864063 CHESTNUT
PRIDE'S FAVORITE
761837 CHESTNUT
M.B. RAMBLER'S GHOST
796931 PALOMINO
JOKERS SEXY BABE
905224 BAY
JOKERS STAR BABY
831286 PALOMINO
THE SUNDOWN KID
686930 PALOMINO
RED JOKER'S LADY
725320 CHESTNUT
PRIDE'S SEXY LADY
810649 BLACK
PRIDES DESIGN
722342 BLACK
SHADOW'S HONEY-DO
623141 BLUE ROAN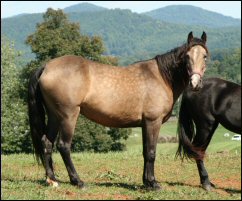 MY BUCKSKIN ANGEL
KMSHA #200703053
TWHBEA #20015187
BUCKSKIN