About Gambler| Photo Album | Online Studbook | Foal Gallery | Video Clips | Stallion Service Contract
Return to Westwood Farms
Gambler's Cassanova
Golden Gambler x Dillion's Main Squeeze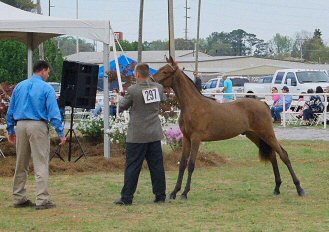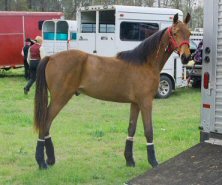 Dillon has the build to walk the walk, just like his parents. He has a short, strong back, sloping shoulder and LONG legs. At just a day old he's already carrying himself like a king. He is a very high-headed colt with plenty of pizzaz. Judging by his light eyes, he may have inherited his dam's unique "tiger's eye" eye color. Dillon is an bright, inquisitive colt - but that is no surprise considering his parents. Both are intelligent, laid back and love to please. We suspect that Dillon will be the same way.
Through his dam, Dillion's Main Squeeze, he carries the blood of Marshall Dillon, Wonder Liz, Pride's Final Edition, Pride's Favorite, and Pride of Midnight H.F. "Miss Kitty" as she is affectionately called, is a proven show horse and a a phenomenal mover, naturally!
Dillon attended his first show on April 12th, 2008 and walked away with FIRST PLACE in the yearling model division at the Oak Mountain Classic in Carrollton, Georgia!
Dillon is proudly owned by Jace & Sean Noteboom of Danbury, CT.
Dillon has a full sibling: Gambler's Outlaw
Gambler's Cassanova

TWHBEA #20703457

DOB: 04-29-2007
COLOR: BAY
SEX: STALLION
MARKINGS: LH FETLOCK

GENOTYPE:
[E- Aa N/Cr]

GOLDEN GAMBLER
20112890 BUCKSKIN

Blue Gold




905820 CREMELLO

Jetstar's Sunrider
868692 CHOCOLATE PALOMINO
Delight's Jetstar
702623 BLACK
Merry Man's Charm
698609 Palomino Sabino
Big Star's Gold Lady
790692 Palomino
Eldorado's Big Star
662833 BLACK
Hero Merry Rose
694854 CHESTNUT
Cindy's Image - GH
823206 BAY
Solitude's Eb Master
685658 BLACK
Ebony Masterpiece
560586 BLACK
Go Boy's Lady Ann
550330
Threat's Cinderella
730274 BAY
Triple Threat
612233 Bay
Handshaker's Sue
655566 BLACK
DILLION'S MAIN SQUEEZE
931144 BLACK
DILLONS OUTLAW
880522 BAY tobiano
MARSHALL DILLON
792399 BLACK TOBIANO
GO BOY'S MAIN EVENT
580801
WONDER LIZ
651718 BLACK TOBIANO SABINO
EBONY'S BOLD WENDY
774297 BLACK
EBONY'S ROYAL BAY
720706 BAY
THE MAN'S FIRST LADY
701384 BLACK
FINAL SQUEEZE
895419 Chestnut
PRIDES FINAL EDITION
804604 BLACK
PRIDE OF MIDNIGHT H.F.
661459 BLACK
EBONY'S C.C.
724432 BLACK
JESSE'S ARISTOCRAT
841800 BLACK
PRIDE'S FAVORITE
761837 Flaxen Chestnut
OPERATOR'S LADY
764527 BLACK
Show Records
| Show Name | Show Date | Class Name | Entries | Place |
| --- | --- | --- | --- | --- |
| Oak Mountain Classic, Carrollton, GA | 4-12-2008 | Model - Yearlings | | 1 |
| Bedford County 4-H Festival - Shelbyville, TN | 4-18-2008 | Model - Yearlings | 10 | 5 |
| Grinder's Switch Walking Horse Classic (Riders Cup) - Columbia, TN | 5-2-2008 | Model | | 3 |
| Manchester Lions Club Horse Show (Riders Cup) - Manchester, TN | 5-3-2008 | Model | | 5 |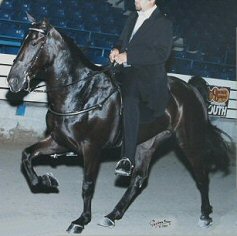 DILLION'S MAIN SQUEEZE
TWHBEA #931144
BLACK