About Gambler| Photo Album | Online Studbook | Foal Gallery | Video Clips | Stallion Service Contract
Return to Westwood Farms
Gambler's Inside Straight
Golden Gambler x Ebony Angel's Shadow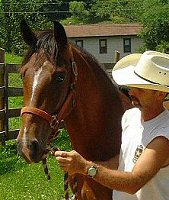 With his owner in 2007
"Junior" was bred by Fosters Follies and is proudly owned by Darren Thompson of St Marys, West Virginia. He was Gambler's first foal born in West Virginia. He was nicknamed "Inside Straight" because it is a gambling term that means a slim chance. It seemed an apt choice for him since he had such a slim chance of recovering for a traumatic ordeal at birth - but he made it!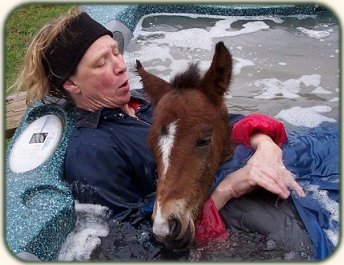 With all of the rain that West Virginia had received in April of 2005, the fields at Fosters Follies were under water and deep mud. Barb Foster of Fosters Follies was impatiently awaiting the arrival of her 2005 foal crop by Golden Gambler. Tonight, Dreamview Daisy, her big palomino sabino mare, had begun to drip milk. She expected her to foal that night.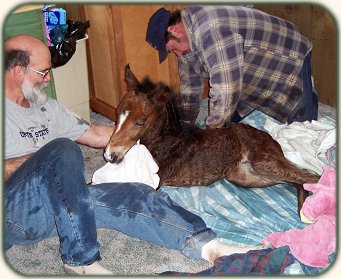 Meanwhile, Ebony Angels Shadow was also due, although later than Daisy. Of course, mares seldom foal when they are "supposed to." On the night of April 3rd, 2005, "Shad" foaled Golden Gambler's first son: a bay stud colt.
She knew what she was doing when she had him in the warm, dry stall. However, when the new colt tried to get up, he fell out of the stall and into a short water trough filled with cold water. He managed to get himself out of the water trough and onto the ground. There he became stuck in the mud where he stayed for hours until dawn. When Barb went out to check the mares she found him cold, stiff, and not breathing.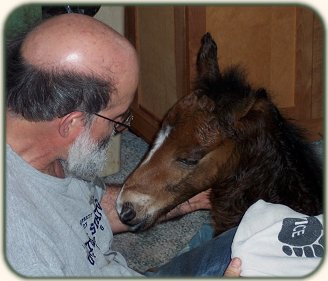 Luckily, Barb is a quick thinker. She performed CPR on the colt and dragged him back into the stall. She managed to get him breathing again, but he was cold to the bone. She called the vet and he advised that she get him into warm water. Barb and her husband put the colt in their hot tub and Barb held him while they tried to warm him.
After his body temperature was brought up by the hot tub, the colt was moved into the Foster's kitchen. There he was dried off completely. The odds weren't good, but the little boy is a fighter! When he warmed up, he started feeling better. He showed a sucking reflex and Barb was able to get some milk into him.

While all of this was going on, his mother, Ebony Angel's Shadow, was living up to her name. She watched patiently and stood back while everyone frantically worked to save the colt. She was worried, but knew that they were trying to help.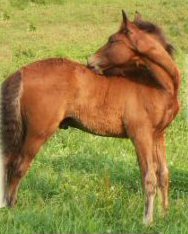 For the first few hours, it was touch-and-go, but he soon showed improvement. He could stand on his own and nursed several times. He showed remarkable good spirits despite the fact that his eyes were still swollen from having been stuck shut with mud and he couldn't get up on his own.
By the next day, the colt was getting up and down on his own, nursing, and generally enjoying life. By two days of age, he had completely forgotten about his ordeal. Looking at him now, you would never tell what a rough start he had, but Barb and her family will never forget.
Barb reports that "Gambler Jr" is by far the most friendly, personable colt that she's ever met. He is happy, well-adjusted and as healthy as...well, a horse!
In April of 2006, Equus Magazine ran an article about his experience!
He is a full sibling to Gambler's Ebony N Gold FF.
GAMBLER'S INSIDE STRAIGHT

TWHBEA #20501396

DOB: 04-03-2005
COLOR: BAY
SEX: STALLION
MARKINGS: NEAR HIND AND NEAR FORE FETLOCKS, OFF FORE CORONET, STRIP, SNIP.

GENOTYPE:
[Ee Aa]*

*DNA TESTED AND CONFIRMED BY THE UC DAVIS

GOLDEN GAMBLER
20112890 BUCKSKIN

Blue Gold




905820 CREMELLO

Jetstar's Sunrider
868692 CHOCOLATE PALOMINO
Delight's Jetstar
702623 BLACK
Merry Man's Charm
698609 Palomino Sabino
Big Star's Gold Lady
790692 Palomino
Eldorado's Big Star
662833 BLACK
Hero Merry Rose
694854 CHESTNUT
Cindy's Image - GH
823206 BAY
Solitude's Eb Master
685658 BLACK
Ebony Masterpiece
560586 BLACK
Go Boy's Lady Ann
550330
Threat's Cinderella
730274 BAY
Triple Threat
612233 Bay
Handshaker's Sue
655566 BLACK
EBONY ANGEL'S SHADOW
19902370 BLACK
EBONY'S JACKPOT
746657 BLACK
EBONY MASTERPIECE
560586 BLACK
SKIPPER SON MIDNIGHT
463561
LADY LEE
400680 BAY SABINO
GO BOYS STORMY NIGHT
550263
MERRY GO BOY
431336 BLACK
SARA RED
461539
MISSY'S PERFECT ANGEL
962487 BLACK
ANGELS RAINBOW
803408 BLACK
ANGEL'S GO BOY
530500
BANKNOTE XMAS BELL
744373 CHESTNUT
MISSY MISSY MOO
856524 BAY
PRIDE'S EBONY BOY
793292 BLACK
LITTLE MISS CAN DO
702219 ROAN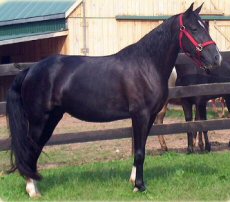 EBONY ANGEL'S SHADOW
TWHBEA #19902370
BLACK