About Gambler| Photo Album | Online Studbook | Foal Gallery | Video Clips | Stallion Service Contract
Return to Westwood Farms
Gambler's Sweet Perfection
Golden Gambler x Threat's Sweet Pride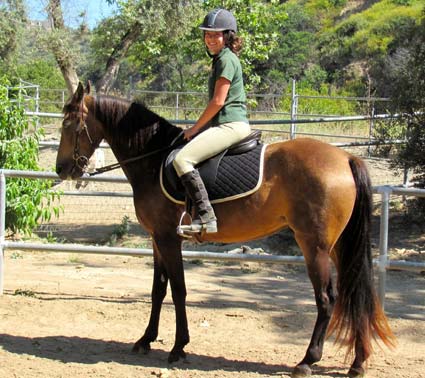 "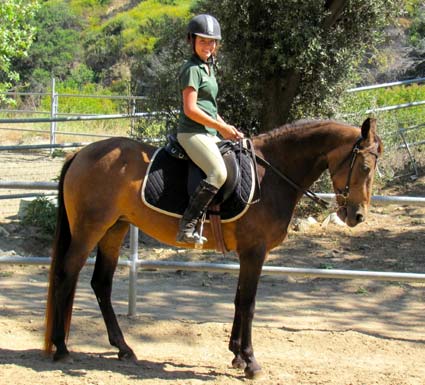 Sweetpea's" comes from a cross that has proven itself to be phenomenal. Her dam, Threat's Sweet Pride's, heavy Pride lines cross exceptionally well with her sire's No-Pride background. Threat's Sweet Pride was sold to LaReina Ranch Walkers while in foal. As a result this filly was the second Gambler foal born in Georgia.
She is also the first Gambler foal to be exported to the West Coast! Her new owner is Jan Sukrau of Newport Beach, CA. Jan has big plans for this gorgeous girl. She will go into training to be shown in the future. Jan found Sweetpea through her friend, the very talented photographer Maggie Moore. Maggie visited us in 2005 to take photos for her book, Walking With Friends. While at Westwood, she met both Gambler and Threat's Sweet Pride in person.
"Perfection" was the first thing that came to mind when looking at this filly. She is just that. A beautiful, refined head; naturally proud, high headset; a short, powerful back; mile-long legs (and grandsire, Ebony's Threat A.'s, backend!); a great shoulder; perfect angles; and to top it all off the beautiful, rich buckskin color!
| | |
| --- | --- |
| | "Have you ever seen a more perfect buckskin filly? This little girl is to die for! This is what everyone has been looking for. Absolute perfection. She has an extremely fast walk and just shakes that little head up and down as she goes. Her stride is unbelievable! She is already over reaching her front with her back end. She carries herself so regally - like she KNOWS she is perfection. She is bright and alert - always aware of what is going on around her. She is very independent, too. Because of that, I've put more effort into imprinting her, but once a procedure has been accomplished with her, she has it! Just one time is all takes with her. She is so smart - just like her sire! She is also a natural born leader, just like her dam." - Denise Coleman |
May 9, 2008 - "Just wanted to let you know that Sweatpea went into training last Thursday. The first day we did some groundwork, this was a piece of cake for her. The second day Carlos lunged her around in a saddle and bridle which she is used to as I started the babies early, then he tied her to a rail. She was not thrilled, but did not buck or pull away. The third day, Monday the following week which is this week, Carlos and I walked her around the perimeter of a circular pen with me holding the lead line tightly and talking to her in anticipation of her bolting, which she did not. The fourth day I let her off the lead line and Carlos was riding her and today one week after we started she was beginning to work like a trouper. Carlos is amazed and I am very pleased. Needless to say I have bonded with her and have worked closely with her so this could be an easy transition and it definitely has been." - Jan Sukrau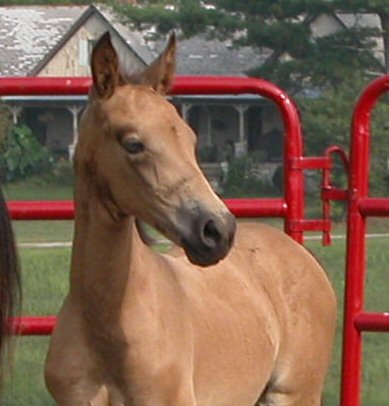 "Sweetpea is first to greet you at the gate. Loves to go out and work. Her gait is smooth and consistant. She has even been introduced to the cart and did not protest and took to it immediately. She will do what one asks without objection. I have had her since she was six months old. Her lineage is impectable, her temperment is quiet, calm and curious. She is ready to show. I am having to sell all my walkers due to a botched surgery. I have paid Maggie, a trainer, to ride my horses for the last year, but cannot continue now that I have found that my injury is permanent. I am looking for someone who will love, ride, and enjoy Sweetpea. She is not mare-ish at all, just eager to please. If you have questions, call Maggie at 714 345-8931. Or you can call me at 949 640-5782." Jan
"Sweetpea" is homozygous for black. This removes the possibility of chestnut, palomino, and cremello foals and increases her chance of producing buckskins!
She has a full brother, Gambler's Man of Pride WF.
For Sale! Call Maggie at 714 345-8931 or you can call me at 949 640-5782.
Gambler's SWEET PERFECTION

TWHBEA #20602048

DOB: 08-01-2006
COLOR: BUCKSKIN
SEX: MARE
MARKINGS: NONE

HEIGHT: 15.2H

GENOTYPE:
[EE Aa N/Cr]*

*DNA TESTED AND CONFIRMED BY THE UC DAVIS

GOLDEN GAMBLER
20112890 BUCKSKIN

Blue Gold




905820 CREMELLO

Jetstar's Sunrider
868692 CHOCOLATE PALOMINO
Delight's Jetstar
702623 BLACK
Merry Man's Charm
698609 Palomino Sabino
Big Star's Gold Lady
790692 Palomino
Eldorado's Big Star
662833 BLACK
Hero Merry Rose
694854 CHESTNUT
Cindy's Image - GH
823206 BAY
Solitude's Eb Master
685658 BLACK
Ebony Masterpiece
560586 BLACK
Go Boy's Lady Ann
550330
Threat's Cinderella
730274 BAY
Triple Threat
612233 Bay
Handshaker's Sue
655566 BLACK
THREAT'S SWEET PRIDE
946019 BLACK
EBONY'S THREAT A.
754729 BLACK
EBONY MASTERPIECE
560586 BLACK
SKIPPER SON MIDNIGHT
463561
LADY LEE
400680 BAY
THREATS SHAKER
694259 BLACK
TRIPLE THREAT
612233 BAY
HANDSHAKER'S SUE
655566 BLACK
GENIUS' SWEET PRIDE
852028 BLACK
PRIDE'S GENIUS
780930 CHESTNUT
PRIDE OF MIDNIGHT H.F.
661459 BLACK
DELIGHT'S JOANNA
694341 CHESTNUT
PRIDES SWEET DELIGHT
762431 BLACK
PRIDE OF MIDNIGHT H.F.
661459 BLACK
SWEET CAROLYNE
711068 BLACK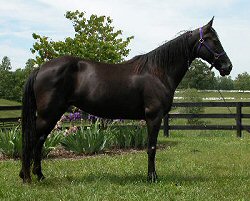 THREAT'S SWEET PRIDE
TWHBEA #946019
BLACK