Home | Stallions | Mares | Foals | Sold | Sales | Special Features | Links
Reference:
Hunter's Allen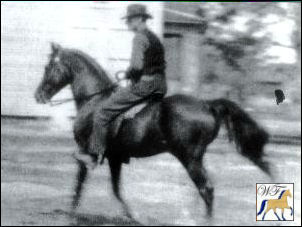 Hunter's Allen
from the TWH Heritage Society
Hunter's Allen was foaled in 1909 and was owned by J.N. Black of Beech Grove, Tennessee. He was the man who had also bred the famous Maude Gray. Hunter's Allen was a golden sorrel horse with a star and snip, long mane that was always wavy in appearance. His long tail touched the ground.
Hunter's Allen's influence on the Walking Horse breed became buried in the female line of registration papers. He was sired by Allan F-1 and his dam was Allis, by Pat. Allis was owned by Dr. J.E. Childress who lived in Coffee County. Dr. Childress used Allis to make the rounds of his medical practice in that county. Many of the homes he serviced were inaccessible except by horseback. Allis was unusually tall at 16 hands, and was described as being "well made, strong and good looking."
Hunter's Allen had several names, and the first of these was Little Allen. He was used as a buggy horse when he was old enough to work. He was driven alongside a pony and used to deliver groceries. he was sold in 1917 to the Hunter family who renamed him Hunter's Allen. He remained the Hunter's horse until he died in 1932.
Hunter's Allen began his show career with county fairs in Middle Tennessee. He was shown in 1912 at the Tennessee State Fair and won first place. The following year, he returned to the State Fair again and won first place, defeating Roan Allen. A lot of old-timers spent time debating which of these two horses was the better horse but there was one aspect of them that proves interesting down to this day: At the time these two horses were alive, crooked or "sickle hocks", a trait that is often seen in modern day Walking Horses, were frowned upon. Hunter's Allen was believed to be the better horse for the simple reason that he did not have crooked legs.
HUNTER'S ALLEN

FOALED: 1906
DIED:

TWHBEA #F-10

COLOR: CHESTNUT

MARKINGS: OFF HIND STOCKING, STAR.
ALLAN
TWHBEA #F-1
COLOR: BLACK

ALLANDORF
TWHBEA #12205
COLOR: GREY
ONWARD
ALMA MATER
MAGGIE MARSHALL
TWHBEA #12206
COLOR: BLACK
BRADFORD'S TELEGRAPH
UNKNOWN
ALLIS
TWHBEA #84
COLOR: BLACK
MARKINGS: BOTH HIND STOCKINGS, STRIP.
HEIGHT: 16H
*PAT
TWHBEA #11266
COLOR: BLACK
CUNNINGHAM'S COPPERBOTTOM
UNKNOWN
**NELL
TWHBEA #11202
COLOR: BLACK
MOUNTAIN SLASHER F-59
UNKNOWN
NOTABLE OFFSPRING
Hunter's Allen has 215 offspring registered with the TWHBEA.


Reference Home