Home | Stallions | Mares | Foals | Sold | Sales | Special Features | Links
Reference:
Jetstar's Sunrider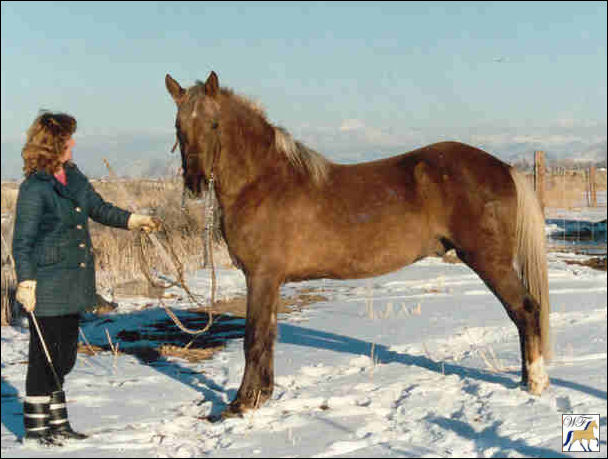 Photos courtesy of Karen Johnson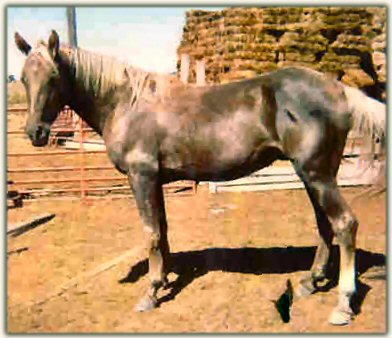 Jetstar's Sunrider, affectionately known as "Rambo" was originally registered as a chestnut, but he was actually a chocolate (sooty) palomino. He was foaled in 1986, a son of Merry Man's Charm a direct daughter of Sun's Merry Man. Sun's Merry Man was one of only four offspring by Reycliff Mid-Merry, better known as the show horse, Hill's Perfection, and the ONLY offspring to reproduce.
Sunrider produced only three foals before he was gelded: Sunrider's Gold Boot (palomino stallion), Blue Gold (cremello stallion), and Sunrider's Delight (palomino gelding).
Memories of Jetstar's Sunrider
By Karen Johnson

Rambo was his stable name that his owner called him. He belonged to a man in Wheatridge. I was in Denver looking through the horse ads and came across his ad. He wanted someone to train his stallion in exchange for a year's lease on the stallion. Rambo hadn't been registered yet, so that was part of the agreement that we took care of the paper work. He was a very gentle stallion and liked to watch our young children at play across the fence.

He once chased an elk out of our pasture, I wish I had photos of that!!

Soon after we returned Rambo in January of 1990, his owner gelded him.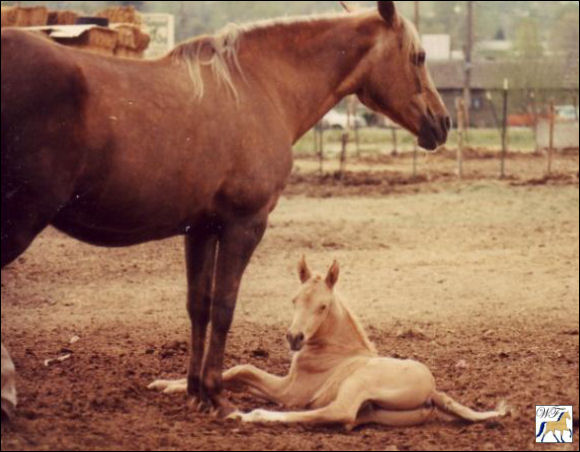 Photos courtesy of the Heritage Highlights. Jetstar's Sunrider and dam, Merry Man's Charm.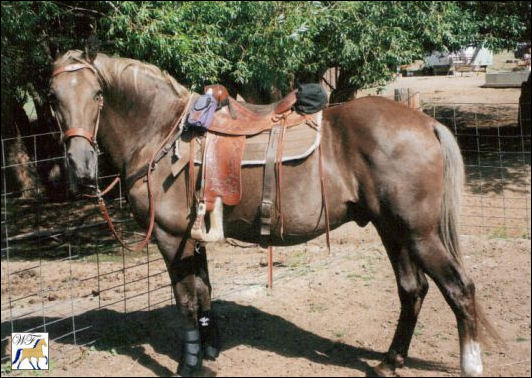 Jetstar's Sunrider at age 20 - not bad for an old man!

JETSTAR'S SUNRIDER
TWHBEA #868692

BORN: 4/28/1986
DIED:

COLOR: PALOMINO
MARKINGS: NEAR HIND SOCK, ON LOWER LIP, FLAX MANE AND TAIL.
DELIGHT'S JETSTAR
TWHBEA #702623


COLOR: BLACK




MARKINGS: ON OUTSIDE NEAR HIND CORONET.

SUN'S DELIGHT D.


TWHBEA #592116
COLOR: CHESTNUT


MIDNIGHT SUN


TWHBEA #410751 COLOR: BLACK

WILSON

SNIP'S CHANCE


TWHBEA #492405
COLOR: CHESTNUT
MARKINGS: OFF HIND FETLOCK, STAR, SNIP, MIXED TAIL.

JET'S MAGIC LADY
TWHBEA #640084 COLOR: BLACK
MARKINGS: NEAR HIND SOCK, NEAR FORE FETLOCK, BLAZE.
SUN'S JET PARADE
TWHBEA #510676 COLOR: BLACK
SPUR'S MISS MAGIC
TWHBEA #540332
COLOR: BLACK ROAN
MARKINGS: NEAR HIND CORONET, STAR.
Merry Man's Charm
TWHBEA # 698609
COLOR: Palomino

sun's merry man
TWHBEA #620157
COLOR: PALOMINO
MARKINGS: BOTH HIND STOCKINGS, STAR, SNIP, WHITE MANE AND TAIL.

REYCLIFF MID MERRY


"HILLS PERFECTION"




TWHBEA #561395




COLOR: CHESTNUT




LADY'S HIGH CALICO




TWHBEA #540232


COLOR: PALOMINO SABINO
MARKINGS: OFF HIND FETLOCK, ON INSIDE OFF HIND LEG, NEAR HIND AND BOTH FORE STOCKINGS, ON BOTH SIDES, ON BOTH SIDES OF NECK, BALD, FLAX MANE AND TAIL.
MILLER'S GOLD


TWHBEA #581677




COLOR: PALOMINO




MARKINGS: OFF HIND SOCK, BLAZE, WHITE MANE AND TAIL.

ZEPHYR'S FLASH O' GOLD


TWHBEA #472608




COLOR: PALOMINO




MARKINGS: NEAR HIND STOCKING, STRIP, WHITE MANE AND TAIL.



WILSON'S QUEENIE F.


TWHBEA #473943




COLOR: CHESTNUT
OFFSPRING
| | | | | | |
| --- | --- | --- | --- | --- | --- |
| TWHBEA # | Name | Color | Sex | Date of Birth | DAM |
| 905819 | SUNRIDER'S DELIGHT | PALOMINO | G | 7/21/1990 | COLORADO SMOKEY LADY |
| 905820 | BLUE GOLD | CREMELLO | S | 4/04/1990 | BIG STAR'S GOLD LADY |
| 905821 | SUNRIDER'S GOLD BOOT | PALOMINO | S | 3/20/1990 | DELIGHTFUL SOUVENIR |


Reference Home