Reference: Sun's Merry Man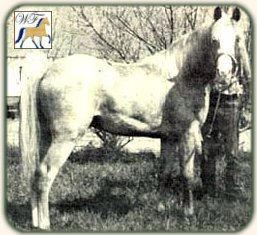 Photo courtesy of Shellie of Slush Creek Walkers.
Sun's Merry Man was one of four offspring of Reyclif Mid-Merry (Hills Perfection), and the only offspring to reproduce and carry on the bloodline. He wasn't just a pretty colored stallion. Calvin Miller stated that "Sun's Merry Man was a walking fool that never wore shoes for one day."
In the late 1950ís there was a young TWH stallion, owned by James Gores, running in the badlands of North Dakota. He was a direct son of Midnight Sun. His name was Reyclif Mid-Merry #561395. Calvin must have seen something in this young stallion because for 3 years in a row, he took his highly prized mare, Ladyís High Calico 540232 to this young stallion's court. Calvin was quite partial to this mare and felt she was one of his best run-walking mares. Wade, Calvinís son tells me that Ladyís High Calico was a really bright copper sorrel that looked as if someone had thrown a bucket of white paint at her. She was registered as a sorrel roan with near hind and both fore stockings, off hind fetlock, inside both hocks, on both sides of body, both hips, both sides of neck, breast, both jaws, bald and a flax mane and tail. Hum, can any of you say sabino?

There were 3 foals born of this cross, a gelding, and 2 stallions. Sunís Merry Mister, one of the stallions, was sold to Canada and died there as a yearling. Calvin kept the other stallion, Sunís Merry Man 620157, and went on to use him heavily as a herd sire. Sunís Merry Man sired 174 registered offspring; he is the only line to Reyclif Mid-Merry to reproduce. As for Reyclif Mid-Merry, well, he went to Tennessee to be trained by Steve Hill and became the 14 time World Champion we all know as Hills Perfection! - Shellie Pacovsky of Slush Creek Walkers
| | |
| --- | --- |
| | The Westwood Farms Connection: |
sun's merry man

TWHBEA #620157

DOB: 1/1/1961
DOD: 1/1/1981

COLOR: PALOMINO
MARKINGS: BOTH HIND STOCKINGS, STAR, SNIP, WHITE MANE AND TAIL.
REYCLIFF MID MERRY
"HILLS PERFECTION"
TWHBEA #561395
COLOR: CHESTNUT

MIDNIGHT SUN
TWHBEA #410751 COLOR: BLACK

WILSON'S ALLEN
TWHBEA #350075
COLOR: CHESTNUT

RAMSEY'S RENA
TWHBEA #410682
COLOR: BAY
BABY RAY
TWHBEA #430979
COLOR: SABINO
MARKINGS: BOTH HIND STOCKINGS, OFF KNEE, ON OUTSIDE NEAR FORE LEG, OFF JAW, UNDER LIP, BALD.
MERRY BOY
350189
COLOR: BLACK SABINO

MAY HOLT
twhbea #992786
lADY'S HIGH CALICO
TWHBEA #540232
COLOR: PALOMINO SABINO
MARKINGS: OFF HIND FETLOCK, ON INSIDE OFF HIND LEG, NEAR HIND AND BOTH FORE STOCKINGS, ON BOTH SIDES, ON BOTH SIDES OF NECK, BALD, FLAX MANE AND TAIL.
GOLDEN SUN ALLEN
TWHBEA #461763
COLOR: "CHESTNUT"
markings: STAR, SNIP.
MIDNIGHT SUN
TWHBEA #410751 COLOR: BLACK

GOLDEN BELL
TWHBEA #400416
COLOR: "SORREL"
MARKINGS: OFF HIND SOCK, NEAR FORE CORONET, BLAZE, SNIP, MIXED MANE AND TAIL.
LADY HIGH HEELS
TWHBEA #473441
COLOR: SABINO
MARKINGS: FOUR STOCKINGS, UNDER NECK, OFF HIP, LOWER LIP, UNDER BELLY, BALD.
GLOVER'S ALLEN
TWHBEA #400257
COLOR: SABINO
MARKINGS: BOTH HIND AND OFF FORE STOCKINGS, UNDERLIP, BALD, MIXED TAIL.
TROUBLES JOSEPHINE
TWHBEA #442379
COLOR: CHESTNUT
MARKINGS: BOTH HIND STOCKINGS, STAR, MIXED MANE AND TAIL.
OFFSPRING
TWHBEA
NAME
COLOR
SEX
DOB
DAM
643930
SUN'S MERRY BREEZE M.
CH
G
1/01/1964
MELODY O ROLLIN HILLS
643931
MERRY MAN'S FLYER M.
CH
S
1/01/1964
MILLER BOYS LADY
644117
FLASH'S PERFECTION
CH
M
1/01/1964
FLASH'S STONE DIXIE
651675
SUN'S COPPER PENNY
CH
M
5/10/1965
FLASH QUEEN
653076
SUN DANCE-V.
CH SAB
S
5/30/1964
MILLERS QUEEN M.
658721
DEL'S GO GO GAL
CH
M
6/10/1965
MILLERS MERRY DIXIE
658722
MERRY MAN'S FLAME
CH SAB
S
5/13/1965
MILLER BOYS LADY
658723
SUN'S MERRY MOON
PA
G
6/14/1965
MAJOR'S DIXIE ALLEN
658724
CARROUSEL CASANOVA
CH SAB
G
5/14/1965
MY MERRY BONNIE
658725
SUN'S DAKOTA GOLD
PA
G
5/15/1965
GINGER CRICKET
658791
RYTHYM O ROLLIN HILLS
CH SAB
S
6/06/1965
MELODY O ROLLIN HILLS
663003
DIXIE ALLEN AGAIN
PA SAB
M
5/09/1966
MAJOR'S DIXIE ALLEN
663004
DREAM'S FASHION
CH SAB
M
7/12/1966
PLAYBOY'S DREAM
663005
BONNIE'S LABEL
CH
G
5/27/1966
MY MERRY BONNIE
663006
LADIE'S INVASION
CH SAB
G
5/29/1966
MILLERS GOLDEN LADY
663007
BO-PEEP'S MAGIC
PA
G
6/05/1966
GOLDEN BO-PEEP
663008
COCOA FLAVOR
CH
S
5/16/1966
PLAYBOY'S COCOA
663009
MERRY DIXS HURRICANE
CH
S
6/07/1966
MILLERS MERRY DIXIE
663010
MILLER'S PERFECTION
CH SAB
G
6/27/1966
FLASH'S GOLDEN LADY
663011
MERRY MAN'S BEAUTY
CH
M
6/20/1966
MILLER BOYS LADY
663012
MERRY MAN'S PRINCE
CH SAB
G
6/17/1966
LIB'S PRINCESS PAT
663013
GLORY M'S BELLE
CH SAB
M
5/17/1966
MILLER'S GLORY M.
663014
SUN'S GOLDEN DAWN
YL
M
5/11/1966
BOY'S GOLDEN DELIGHT
677162
SUN'S MISTY DEW
SR
M
4/10/1967
PLAYBOY'S BABY DOLL
677163
LIBBY'S HONEY
SO
M
4/20/1967
LIBERACE'S LIBBY
677164
MILLER'S VELVET
SR
M
5/18/1967
MILLERS MERRY DIXIE
677166
COCOA'S GINGER
CH
M
5/16/1967
PLAYBOY'S COCOA
677168
MILLER'S MEMO
CH
S
5/15/1967
MILLER BOYS LADY
677169
SUN'S GALLANAT LAD
SO
G
4/12/1967
MILLER'S RUBY M.
677170
MILLER'S GLAMOUR BOY
SO
S
5/15/1967
BOY'S GOLDEN DELIGHT
677171
SUN'S DOTTY
SO
M
6/15/1967
MAJOR'S DIXIE ALLEN
677172
MILLER'S BUTTER CUP
YL
M
5/13/1967
MILLERS GOLDEN LADY
677173
MILLER'S MEDORA
CH
M
6/15/1967
FLASH'S GOLDEN LADY
677175
MILLERS GLAMOUR GIRL
SR
M
6/20/1967
PLAYBOY'S DREAM
677178
MERRY MAN'S FROSTY
WH
G
6/02/1967
GOLDEN BO-PEEP
677180
BONNIE'S ECHO
CH
G
5/15/1967
MY MERRY BONNIE
677181
LIB'S CHANCE
CH
G
6/01/1967
LIB'S PRINCESS PAT
681391
LITTLE MISTY
WH
M
5/29/1968
MILLERS TRIXIE
683839
QUEEN'S FLASH C.
SO
S
6/13/1968
FLASH QUEEN
684286
JOLLY JIM
CH
G
5/25/1968
ACE'S GENTLE MISS
687839
WHIRLPOOL DIXIE JO
RN
M
7/08/1968
WILSON'S DIXIE STONE
688423
MILLER'S INVADOR
SO
S
6/01/1968
MILLER BOYS LADY
688424
MILLER'S CHOICE
SO
M
4/27/1968
MILLERS MERRY DIXIE
688425
GLORY M'S MODEL
CH
M
4/22/1968
MILLER'S GLORY M.
688426
DAKOTA GOLD RUSH
YL
G
5/25/1968
MILLER'S GOLD
688427
SUN'S MERRY TOPSY
SO
M
4/25/1968
MAJOR'S DIXIE ALLEN
688428
BONNIES COUNTRY GIRL
CH
M
5/02/1968
MY MERRY BONNIE
688429
MILLERS FLYING COLOR
SR
G
4/28/1968
PLAYBOY'S COCOA
688430
MILLER'S YANKEE
WH
S
6/10/1968
MAJORS GOLD LADY
688432
DREAM'S MAID
SO
M
5/23/1968
PLAYBOY'S DREAM
688434
LADIE'S SUN GLOW
YL
G
6/01/1968
MILLERS GOLDEN LADY
688438
MERRY MAN'S ZIPPER
CH
G
6/01/1968
LIB'S PRINCESS PAT
688439
BO PEEP'S SNOW MAN
WH
G
5/29/1968
GOLDEN BO-PEEP
688440
DAKOTA SAGE
CH
G
4/24/1968
FLASH'S GOLDEN LADY
688441
MAJORETTE'S COPY
SO
M
6/06/1968
CALICO'S MAJORETTE
688442
MILLER'S FANCY
SR
M
5/09/1968
FLASH'S DIXIE
688443
DELIGHT'S TALENT
CH
M
4/20/1968
BOY'S GOLDEN DELIGHT
694237
CALL'S PATCHES
RN
S
7/10/1969
FLASH QUEEN
698603
DELIGHT'S SUN GLOW
YL
M
5/12/1969
BOY'S GOLDEN DELIGHT
698604
COCOA'S GINGER ALE
CH
M
5/13/1969
PLAYBOY'S COCOA
698605
DAKOTA'S MEDORA
CH
M
5/15/1969
FLASH'S GOLDEN LADY
698606
LADIE'S SUN MIST
YL
M
6/11/1969
MILLERS GOLDEN LADY
698607
MERRY MAN'S ACE
SR
G
6/10/1969
THRILL'S MONA LYNDA
698608
MERRY MAN'S LACE
SO
M
5/12/1969
PLAYBOY'S DREAM
698609
MERRY MAN'S CHARM
PA
M
6/01/1969
MILLER'S GOLD
698610
MILLERS REBEL
SO
G
5/31/1969
FLASH'S DIXIE
698611
MILLER'S BLAZER
SO
G
5/20/1969
CALICO'S MAJORETTE
698613
MILLER'S DIAMOND LIL
CH
M
6/13/1969
MILLER BOYS LADY
698614
PERFECTIONS CANDY
SO
M
5/06/1969
MILLER DIXIE ALLEN
698615
PERFECTION'S GOSSIP
SO
M
5/17/1969
MILLER'S GLORY M.
698616
PERFECTION'S COPY M.
SO
S
5/13/1969
MILLERS MERRY DIXIE
698617
PERFECTIONS ATOMIC
SO
G
5/21/1969
MY MERRY BONNIE
698618
MILLERS PATCHES
SO
M
5/13/1969
MAJOR'S DIXIE ALLEN
702398
SUN'S RAY HONOR ACE
CH
S
8/10/1970
ACE'S GENTLE MISS
702966
WHIRLPOOL'S BRANDY
CH
M
7/11/1970
MY FAVORITE FANCY
703155
MASTER'S TELSTAR
SO
G
4/18/1969
LIBERACE'S LIBBY
705360
MILLER'S ANGEL
WH
M
6/08/1969
MAJORS GOLD LADY
706979
DREAMS MUSIC
SO
M
5/06/1970
PLAYBOY'S DREAM
706980
BONNIE'S HONOR
CS
G
7/12/1970
MY MERRY BONNIE
706981
MILLER'S HOLIDAY
SO
G
5/06/1970
MILLER'S GLORY M.
706982
MILLER'S TELESTAR
YL
G
5/02/1970
FLASH'S GOLDEN LADY
706983
MILLER'S SHOWMAN
SO
G
5/20/1970
FLASH'S DIXIE
706984
GOLD'S BITTERSWEET
YL
M
5/28/1970
MILLER'S GOLD
706985
MILLER'S VOLUNTEER
YL
G
6/10/1970
MAJORS GOLD LADY
706986
MILLER'S MISTRESS
SO
M
5/14/1970
MILLER DIXIE ALLEN
706987
COCOA'S JUBILEE
SO
M
5/12/1970
PLAYBOY'S COCOA
706988
MILLER'S CLOWN
SO
G
5/27/1970
CALICO'S MAJORETTE
706989
MILLER'S DUPLICATOR
SO
S
5/02/1970
MILLERS MERRY DIXIE
706990
MILLER'S JOY
SO
M
5/06/1970
MAJOR'S DIXIE ALLEN
706991
MILLER'S RING MASTER
SO
S
5/28/1970
MILLER BOYS LADY
706992
MILLER'S GOLD BOND
YL
M
5/02/1970
BOY'S GOLDEN DELIGHT
706993
LADY'S MERRYCREAM
YL
M
6/10/1970
MILLERS GOLDEN LADY
707021
MERRY MAN'S CHAMP
SR
S
4/18/1970
LIBERACE'S LIBBY
713370
LADY'S MERRY MIST
YL
M
5/27/1971
MAJORS GOLD LADY
716740
SUN'S DIAMOND KAY
SO
M
5/13/1971
MILLER DIXIE ALLEN
716741
SUN'S RIVERETTE
SR
M
5/10/1971
FLASH'S GOLDEN LADY
716742
SUN'S FLAGSTONE
WR
S
5/25/1971
CALICO'S MAJORETTE
716743
SUN'S WILDFIRE M.
SO
S
5/17/1971
BOY'S GOLDEN DELIGHT
716744
SUN'S DAKOTA KING
SO
G
5/05/1971
PLAYBOY'S DREAM
716745
SUN'S GOLDEN FAME
YL
G
5/18/1971
MILLER'S GOLD
716746
SUN'S RIVER MAY
SO
M
5/25/1971
MILLERS GOLDEN LADY
716747
BONNIES CRACKER JACK
SR
G
6/15/1971
MY MERRY BONNIE
716748
GLORY M'S BALLET
SR
M
5/01/1971
MILLER'S GLORY M.
716749
MERRY DIX'S MISCHIEF
SR
G
5/03/1971
MILLERS MERRY DIXIE
716750
COCOA'S SUGAR PLUM
SO
M
5/15/1971
PLAYBOY'S COCOA
716751
MILLER'S LADYBIRD
SR
M
6/05/1971
MILLER BOYS LADY
717743
MORLEY MORNING GLORY
SR
M
5/15/1971
LIBERACE'S LIBBY
726376
MERRY MAN'S SUGAR
SO
M
6/15/1972
LIBERACE'S LIBBY
726969
COCOA'S MERRY LADY
CH
M
5/13/1972
PLAYBOY'S COCOA
726970
DAKOTA WILDFIRE
SO
G
6/05/1972
MILLERS GOLDEN LADY
726977
MERRY MAN'S RENO
HR
G
6/20/1972
FLASH'S GOLDEN LADY
726978
MERRY MAN'S ROCKET
YL
G
5/15/1972
FLASH'S DIXIE
726979
DAKOTA QUEEN
SO
M
5/09/1972
MILLER DIXIE ALLEN
726980
PERFECTIONS CRYSTAL
CH
M
5/09/1972
PLAYBOY'S DREAM
726981
SUN'S BOBO
SR
G
5/09/1972
MILLER BOYS LADY
726982
SUN'S CALCULATOR
SO
G
5/09/1972
MILLERS MERRY DIXIE
735232
DAKOTA DANDY
SO
G
5/15/1973
CALICO'S CRICKET
735244
SUN'S APRIL
SO
M
4/24/1973
MILLER BOYS LADY
735245
DAK. CLIPPER
SO
G
5/18/1973
FLASH'S DIXIE
735246
SUN'S DAKOTA BANNER
SR
G
4/18/1973
MAJORETTE'S ROSE
735247
SUN'S DAK. RAMBLER
SO
G
7/15/1973
MILLERS MERRY DIXIE
735248
SUN'S FLAGSTAFF
SR
G
4/30/1973
MY MERRY BONNIE
735249
SUN'S HOPE
CH
M
5/22/1973
MILLER DIXIE ALLEN
735250
SUN'S PLAYDAY
SR
G
4/30/1973
FLASH'S GOLDEN LADY
735251
SUN'S YANKEE DOODLE
SO
G
4/26/1973
PLAYBOY'S DREAM
736959
MERRY MAN'S GAL SAL
SO
M
6/15/1973
LIBERACE'S LIBBY
744365
GOLDEN GIPSY'S POGEY
CH
S
4/26/1974
GOLDEN GIPSY
745055
MERRY MAN'S FANCY DAN
SO
S
5/15/1974
LIBERACE'S LIBBY
745304
SUN'S DAKOTA DAISY
CH
M
5/05/1974
PLAYBOY'S DREAM
745305
SUN'S DAKOTA MAJOR
SO
S
4/30/1974
FLASH'S DIXIE
745306
SUN'S DAKOTA TROUBLE
SO
G
7/10/1974
MILLER DIXIE ALLEN
745307
MILLER'S ROYAL FLUSH
SO
S
5/07/1974
MILLER BOYS LADY
745308
SUN'S SQUAW MAN
SR
G
5/14/1974
CALICO'S MAJORETTE
745309
SUNS GUMBO LILY
WH
M
4/20/1974
MAJORETTE'S ROSE
745310
SUN'S RIVER MAN
SO
G
7/19/1974
MILLERS MERRY DIXIE
752020
SUN'S DAK. JUNE
SO
M
6/28/1975
MILLERS GOLDEN LADY
752021
SUN'S DAK. DRUMER
SO
G
7/02/1975
MILLERS MERRY DIXIE
752022
SUN'S DAK. TRAVLER
SO
S
5/02/1975
PLAYBOY'S DREAM
752023
SUN'S DAK. BALLET
SR
M
5/17/1975
MILLER BOYS LADY
752024
SUN'S MISS AMERICA
SO
M
7/08/1975
MILLER DIXIE ALLEN
752025
SUNS DAKOTA SCOUT
SR
G
4/10/1975
MAJORETTE'S ROSE
752026
SUN'S CHOCOLATE
CH
G
6/30/1975
MAJORETTE'S GALA
752027
SUN'S DAK. JUBILEE
SO
M
5/13/1975
FLASH'S DIXIE
752028
SUN'S DAKOTA SKYLARK
SO
M
7/21/1975
CALICO'S MAJORETTE
752283
LIBBY'S GOLDEN LILY
SO
M
5/15/1975
LIBERACE'S LIBBY
752286
SUN'S COLOR BEARER
CH
G
6/05/1975
FLYING COLOR
752559
SUN'S DAKOTA CHAMP
SO
G
4/10/1975
GOLDEN LOCKS
765065
MERRY MANS COUNTESS
SO
M
4/25/1976
PLAYBOY'S DREAM
765066
MERRY MAN'S DIXIEANN
SO
M
6/28/1976
MILLERS MERRY DIXIE
765067
MERRY MAN'S ROSETTE
SR
M
4/05/1976
MAJORETTE'S ROSE
765068
SUN'S COUNTRY SAM
SO
G
6/09/1976
MILLERS GOLDEN LADY
765069
SUN'S DAKOTA PIONEER
CH
G
4/24/1976
MILLER BOYS LADY
765070
SUN'S SUPER GOLD
YL
G
5/19/1976
FLASH'S DIXIE
765071
SUN'S WONDERETT
SO
M
4/27/1976
MILLER DIXIE ALLEN
766263
MERRY MAN'S ROYAL ACE
SO
G
5/17/1976
LIBERACE'S LIBBY
773225
SUN'S DAK GOLD NUGGET
RN
G
4/27/1977
GOLDEN LOCKS
774899
SUN'S WONDER LEGS
SR
M
4/24/1977
PLAYBOY'S DREAM
774900
SUN'S STEPEN GO
SO
M
6/23/1977
MILLERS MERRY DIXIE
774901
SUN'S PIDDLEY DEE
SO
M
5/13/1977
MAJORETTE'S GALA
774902
SUN'S DAKOTA PARADER
SR
G
6/16/1977
MAJORETTE'S ROSE
774903
SUN'S DIXIE GOLD
YL
M
5/11/1977
FLASH'S DIXIE
774904
MERRY MAN'S CHEER
CH
M
5/13/1977
CALICO'S CRICKET
774905
DAKOTA FAIRY
SO
M
4/21/1977
MILLER BOYS LADY
775167
PINEHILL MERRY ALLEN
SO
M
4/28/1977
PINEHILL SUE ALLEN
784696
MERRY MANS COUNTDOWN
SO
S
4/12/1978
MILLER DIXIE ALLEN
784697
MERRY MAN'S JET
SO
G
4/29/1978
MILLER BOYS LADY
784698
MERRY MAN'S PEGGY RAY
SO
M
5/20/1978
MAJORETTE'S ROSE
784699
MERRY MAN'S RAINBOW
CH
M
8/01/1978
MAJORETTE'S GALA
784700
MILLERS DIAMOND JACK
SO
G
7/31/1978
MILLERS MERRY DIXIE
784701
MILLER'S SUPER MAN
SO
S
4/26/1978
PLAYBOY'S DREAM
784702
SUN'S DAKOTA CHIEF
SO
G
8/28/1978
CALICO'S CRICKET
785492
DUKES STRAWBERI DAWN
CH
M
6/07/1978
JAN'S BLUE DANUBE
791920
FLASH'S SUN BONNET
YL
M
6/06/1978
FLASH'S DIXIE
6510257
TEXAS STAR V.
SO
S
4/16/1965
MAJOR BOY'S ALLEN

Westwood Farms - Locust Dale, Virginia 22948 - stephanie@westwoodfarms.net - 540-825-1300