About Gambler| Photo Album | Online Studbook | Foal Gallery | Video Clips | Stallion Service Contract
Return to Westwood Farms
Gambler's Golden Lad WF
Golden Gambler x Winning Touch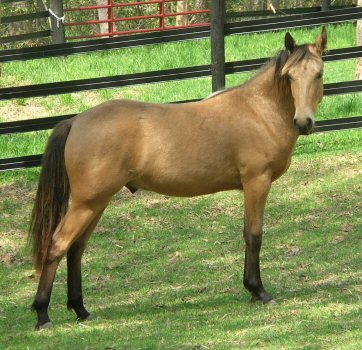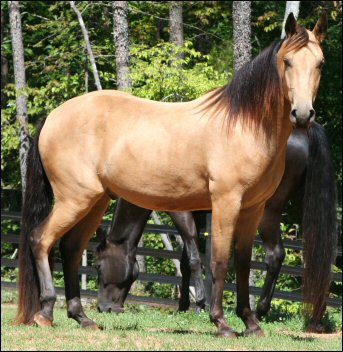 LEFT: Laddie in 2007 (yearling). RIGHT: Laddie in 2008 (two years).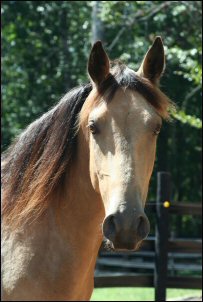 "Laddie" is another fine example of the best of both parents. He is handsome, incredibly intelligent with an superb disposition and his sire's mischievous streak (Deb can tell you stories about Laddie's escapades.) His conformation is first-rate and he's going to have his dam's quarter-horse-like substance.
He was gaiting around his dam as soon as he figured out how to work his legs. Judging by the look of those same legs, he is going to be a large horse.
He was born to be an athlete. His sire and dam are both gorgeous, beautifully gaited, and tremendously athletic. At just a few hours old he was racing around the paddock as fast as his legs could carry him. By the time he was a few days old he was demonstrating a beautiful, athletic canter and pivoting on the forehand and haunches. By a few weeks of age he would race around the paddock playfully sliding to a stop just in front of the fence on each lap.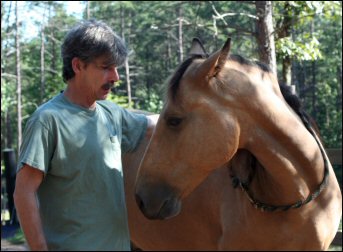 Deb and Pat Davis had purchased a yearling from us before and we had become great friends. They are the type of owner that breeders dream about - loving, nurturing, and a true testament of the kind of bond that can be formed between human and equine. They began thinking about giving their gelding a "brother" and they wanted a foal by Gambler. They both love Winning Touch ("Dixie") and mentioned that they would love a buckskin colt out of Dixie and by Gambler. When she gave birth in March, 2006 I called Deb and Pat immediately. They came to see him within hours of his birth and fell in love. He was "sold" at 6 days of age. We are so thrilled that our handsome "Laddie" has such a loving home.
Laddie has three full siblings: Gambler's Midas Touch WF, Gambler's Winning Chip WF and Gambler's Golden Diva WF.
Read Deb and Pat's Testimonial for Gambler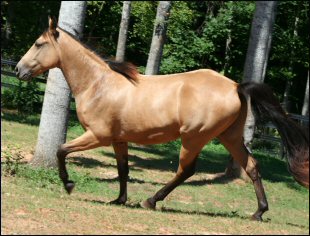 Updates From His Owner
Date: Tue, 23 Jan 2007 13:19:36 -0500
Subject: Laddie Saves the Day for Boo!!
After we finally finished the electric fence hookup over at Cherrie's, with the Solar Unit, we were not certain if the fence was actually working. Obviously new to this, and it being solar unit, it took a little time to get "juice" to the fence. Suddenly, however, Boo came up to the fence and jumped! We knew it was working. Poor baby! I felt bad - but we have to do something to keep the Little Houdini in! Laddie, was in the run-in-stall! We decided to let him out to see if he would get "zapped"! ! Pat and I are walked over to the gate where we have the Yellow Connector linked up to complete the connection. Laddie promptly walks over to us, reaches over the gate to the connector. Pat and I looked at each other and said: Oh this is going to hurt! Instead, that Little Monkey, put the connector in his mouth, just as you or I would do, and disconnected the electric fence. He didn't hit the wire at all!! Then he promptly drops it on the ground - turns around, walks over to Boo, as if to say - don't worry Big Brother, I took care of the whole thing!! Pat and I just looked at each other with our mouths open!! Two and 1/2 days of hard work - up in smoke - within one minute!!
Cherri told me a precious story yesterday, after the snowfall!! She went to feed Laddie and Boo in the morning - (they are always in the same stall each night). She promptly lets Laddie out and he always immediately runs into the other stall (to his bucket for his grain). Instead, he looks at the ground, puts his front hoof in the snow, and quickly pulls it back into the stall!! Then he does it again, as if to say, "What is this white cold stuff!!" Hunger got the best of him, however, and he ran into the stall for his Breakfast!! Cherri said that he was just adorable!!
GAMBLER'S GOLDEN LAD WF

TWHBEA #20600040

DOB: 03-03-2006
COLOR: BUCKSKIN
SEX: GELDING
MARKINGS: NONE

GENOTYPE:
[E- A- N/Cr]

GOLDEN GAMBLER
20112890 BUCKSKIN

Blue Gold




905820 CREMELLO

Jetstar's Sunrider
868692 CHOCOLATE PALOMINO
Delight's Jetstar
702623 BLACK
Merry Man's Charm
698609 Palomino Sabino
Big Star's Gold Lady
790692 Palomino
Eldorado's Big Star
662833 BLACK
Hero Merry Rose
694854 CHESTNUT
Cindy's Image - GH
823206 BAY
Solitude's Eb Master
685658 BLACK
Ebony Masterpiece
560586 BLACK
Go Boy's Lady Ann
550330
Threat's Cinderella
730274 BAY
Triple Threat
612233 Bay
Handshaker's Sue
655566 BLACK
WINNING TOUCH
20201544 BUCKSKIN
ONE PART GEN
961873 PALOMINO
MAN OF GENERATOR
874219 SORREL
PRIDES GENERATOR
753925 CHESTNUT
MOONWALK'S STAR
772910 BLACK
WILSON'S PRINCESS LADY
897639 WHITE
DRUMMER'S GOLD DUST
845980 PALOMINO
HAY LOOK ME OVER L.M.
675755 BLACK
SHE'S TOUCHED
971428 BLACK

THE TOUCH


885121 BLACK

ANOTHER GREY JOHN


847253 GREY
SPIRIT'S EBBY
824753 BLACK
SENATOR'S LADYAIRE
784874 BLACK

EBONY'S SENATOR


641156 BLACK
DELIGHT'S LADYAIRE
716332 CHESTNUT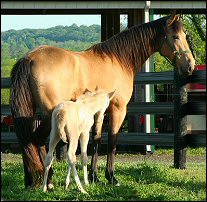 WINNING TOUCH
KMSHA #200612043
TWHBEA #20201544
BUCKSKIN