About Gambler| Photo Album | Online Studbook | Foal Gallery | Video Clips | Stallion Service Contract
Return to Westwood Farms
Gambler's Winning Chip WF
Golden Gambler x Winning Touch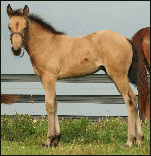 This buckskin beauty is something else. She is bright, inquisitive and full of life. She's going to be a tall, muscular mare when grown. She is the product of two phenomenal horses. Both of her parents are tremendously athletic, supremely intelligent, naturally smooth gaited, people-pleasing and just all around wonderful horses.
She is now proudly owned and loved by Susan Davis of Virginia.
She has three full siblings: Gambler's Midas Touch WF, Gambler's Golden Lad WF and Gambler's Golden Diva WF.
Updates From Her Owner
Date: Monday, April 13, 2009 9:38 PM
Subject: Chip
Hi - Just wanted to let you know that Chip continues to do well. We have been ponying her out on the trails with us on the weekends during our 3 hour trail rides. When we are off the roads and going through trails in the woods & mountains we take the lead rope off and she follows freely along. She does not hesitate going over creeks and fallen trees or rough rocky areas. Its amazing how high she can jump over the large fallen logs. She stands tied quietly with the other horses when we stop for lunch breaks along the trail. She does not mind the other strange horses around her on the trail. This past weekend, we encountered hikers with backpacks on the trail on two different occasions - she was not phased by the backpacks, and she stopped briefly to "greet" the hikers, then continued on her way. She continues to do well with ground work and desensitizing. Now that the warmer weather is approaching, we will address the clipping more seriously and hosing down with water bathing. She continues to be a joy to have and work with, we constantly get compliments on her confirmation and disposition from the farrier, vets, and other horse people. Will send you an updated picture of her once she's done shedding (boy does she have alot of fur between the baby fur and winter fur, its still pretty thick - however, she does have a wonderful thick mane and tail!) and anxious to see what the final resulting shade of buckskin will be.

Take care,
Susan
Date: Sunday, December 14, 2008 9:21 PM
Subject: Holiday Greetings from Chip

Glad you noticed the info. on us in The Voice - hopefully in the future it'll be Chip in there! :-)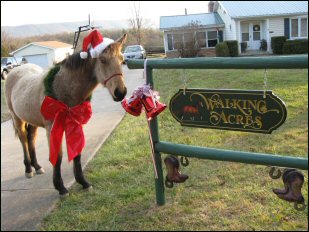 Enjoy the Holiday pics and feel free to post on your website. Chip is doing great - did well for the farrier trimming her feet last week. She is getting to be a real "people" horse, quick learner and great disposition. It was funny - you had to be there - but while Michael was holding her on the lead while the farrier was doing her feet, she stuck her nose in Mike's chest and discovered the zipper on his coveralls - then she grabbed the zipper pull in her teeth and immediately began pulling the zipper up and down his chest & belly, zipping and unzipping the zipper. Wish I had that on video!

When we took these pics, it was the first time she was introduced to the Santa hat on her head and wreath around her neck - she accepted them easily within a few minutes and then acted like they weren't even there. She tolerated our picture taking efforts very well, and almost seemed like she was purposely "modeling" for us in the end. She's going to be one heck of a character!

Enjoy, and Happy Holidays!
Susan
Date: Sunday, November 16, 2008 5:34 PM
Subject: Update on Chip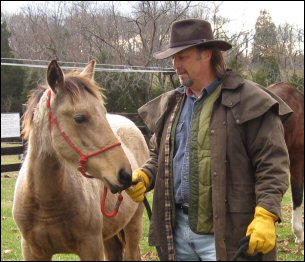 Hi -
Just wanted to update you on Chip and let you know she is doing fine. She is loading on a trailer and settled in nicely with the other horses and getting spoiled like them (in a good way! :-) ) She is getting more and more friendly and people-oriented. I had middle school students over last weekend to work on the other horses, and she just hung around, checking things out. We also have been ponying her and she is doing very well with that. I brought her to the vet last week for her vaccinations all by herself on the trailer. He was impressed by how calm she was, easy to load, entered a strange barn w/o hesitation and stood still while her shots were administered. She was a real "lady". We are very happy with her. Attached is a recent pic of her and Mike.
Take care,
Susan
GAMBLER'S WINNING CHIP WF

TWHBEA #20800592
KMSHA #200810050
RHBAA #1080036

DOB: 05-11-2008
COLOR: BUCKSKIN
SEX: MARE
MARKINGS: NONE

GENOTYPE:
[Ee Aa N/Cr]*

*Tested and confirmed by UC Davis.

GOLDEN GAMBLER
20112890 BUCKSKIN

Blue Gold




905820 CREMELLO

Jetstar's Sunrider
868692 CHOCOLATE PALOMINO
Delight's Jetstar
702623 BLACK
Merry Man's Charm
698609 Palomino Sabino
Big Star's Gold Lady
790692 Palomino
Eldorado's Big Star
662833 BLACK
Hero Merry Rose
694854 CHESTNUT
Cindy's Image - GH
823206 BAY
Solitude's Eb Master
685658 BLACK
Ebony Masterpiece
560586 BLACK
Go Boy's Lady Ann
550330
Threat's Cinderella
730274 BAY
Triple Threat
612233 Bay
Handshaker's Sue
655566 BLACK
WINNING TOUCH
20201544 BUCKSKIN
ONE PART GEN
961873 PALOMINO
MAN OF GENERATOR
874219 SORREL
PRIDES GENERATOR
753925 CHESTNUT
MOONWALK'S STAR
772910 BLACK
WILSON'S PRINCESS LADY
897639 WHITE
DRUMMER'S GOLD DUST
845980 PALOMINO
HAY LOOK ME OVER L.M.
675755 BLACK
SHE'S TOUCHED
971428 BLACK

THE TOUCH


885121 BLACK

ANOTHER GREY JOHN


847253 GREY
SPIRIT'S EBBY
824753 BLACK
SENATOR'S LADYAIRE
784874 BLACK

EBONY'S SENATOR


641156 BLACK
DELIGHT'S LADYAIRE
716332 CHESTNUT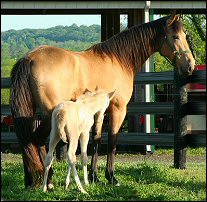 WINNING TOUCH
KMSHA #200612043
TWHBEA #20201544
BUCKSKIN