About Gambler| Photo Album | Online Studbook | Foal Gallery | Video Clips | Stallion Service Contract
Return to Westwood Farms
Gambler's Golden Sovereign
Golden Gambler x Bad News Cameo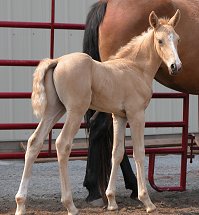 Bad News Cameo was sold to Denise Coleman of LaReina Ranch Walkers while in foal. As a result her first foal was also the first Gambler foal born in Georgia.
"Golden Boy has the sweetest personality and loves attention. He is shedding out to a rich chocolate color and I think he will be astounding. We were all amazed at the length of his legs when he was born. He was definitely "all legs." I can't say enough good things about him! He is such an incredibly fast learner and he wants very much to please, it makes him a joy to work with. He is very alert and intelligent. His eyes are so kind - they reflect his wonderful disposition and his natural inquisitiveness." - Denise Coleman
An update on January 2, 2007 from Denise Coleman:
"Golden boy and Miss P are going to be HUGE!!!! He is already very tall and holds himself like he is King of England. That is the one that is going to be special. You should just see him move and see him just standing. In the group, he is the one that will catch your eye. He is still chocolate around his eyes even though the rest of his body is golden with winter coat now. He has big bones, naturally arches his neck ALL THE TIME and just holds that tail up in the air. His legs just go on forever as well as his neck. He shakes that head as he goes along and KNOWS that he is regal."
An update on February 1, 2007 from Denise Coleman:
"Stephanie, I just wish you could see him in person. Both of my Gambler babies. I have seen a lot of babies and they really take the cake. You just wait until they shed out this spring. You will see. I will go down and take video of them for you. If it is warmer next week I might just take video of them moving for you anyway. Miss P. is so much fun to watch and you will see how Golden Boy walks around with his little head set like, hey! Look at me guys. You know I am special here."
In 2007, Maren & Henri Augero of Georgia purchased Gambler's Golden Sovereign.
October 7, 2010
"I still have Gambler! He has grown into a beautiful horse, and has the sweetest personality I have ever encountered. He has been started under saddle in February, and I have been riding him since then twice a week. He is a great trail riding horse, very dependable, hardly ever spooks and does everything I ask of him. I love him very, very much!!" - Maren Augero
GAMBLER'S GOLDEN SOVEREIGN

TWHBEA #20601446

DOB: 07-07-06
COLOR: PALOMINO
SEX: GELDING
MARKINGS: NEAR HIND SOCK, STRIP

GENOTYPE:
[ee Aa N/Cr]*

*DNA TESTED AND CONFIRMED BY THE UC DAVIS

GOLDEN GAMBLER
20112890 BUCKSKIN

Blue Gold




905820 CREMELLO

Jetstar's Sunrider
868692 CHOCOLATE PALOMINO
Delight's Jetstar
702623 BLACK
Merry Man's Charm
698609 Palomino Sabino
Big Star's Gold Lady
790692 Palomino
Eldorado's Big Star
662833 BLACK
Hero Merry Rose
694854 CHESTNUT
Cindy's Image - GH
823206 BAY
Solitude's Eb Master
685658 BLACK
Ebony Masterpiece
560586 BLACK
Go Boy's Lady Ann
550330
Threat's Cinderella
730274 BAY
Triple Threat
612233 Bay
Handshaker's Sue
655566 BLACK
BAD NEWS CAMEO
20200939 BAY
COIN BAD NEWS
832860 CHESTNUT
PRIDES GOLD COIN
742472 CHESTNUT
PRIDE OF MIDNIGHT H.F.
661459 BLACK
DELIGHT'S JOANNA
694341 CHESTNUT
MAC'S HIGH SOCIETY
684014 CHESTNUT
MIDNIGHT MACK K.
490450
MARCH GLORY
590193
ONE LAST TIME AROUND
920490 BLACK
EBONY'S TIME AROUND
741199 BAY
EBONY MASTERPIECE
560586 BLACK
HONEY GOLD MC.
6510271 BAY
PRIDE'S EBONY LADY
804624 BLACK
PRIDE OF MIDNIGHT H.F.
661459 BLACK
MELANA EBONY
716183 BLACK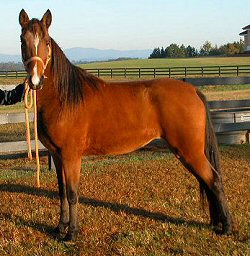 BAD NEWS CAMEO
TWHBEA #20200939
BAY