About Gambler| Photo Album | Foal Gallery | Stallion Service Contract
When you consider breeding your mare, you don't want to gamble on quality. You want a sure bet - a stallion that "has it all" and passes it on to his foals.

Intelligence.
Intelligence is a trait that Gambler had in vast amounts. He loves to learn and therefore has been exceptionally easy to train. His intelligence is a great asset when navigating the trails or taking in new experiences.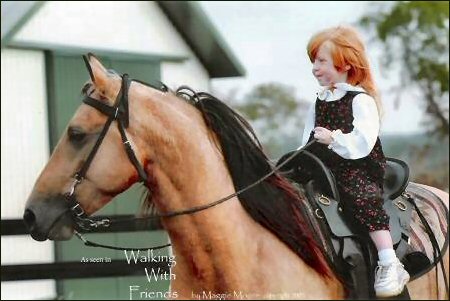 Disposition.
Gambler's disposition is second to none. While Gambler has a great deal of presence, he is also very laid back. He is a perfect gentleman in every sense of the word. He is ridden with geldings and mares in heat and doesn't take one step out of line. Gambler loves people of all ages, but is especially fascinated with children. He is pictured at right with three year old Cassidy Newman. The photo was taken in 2005 by Maggie Moore for her book, Walking With Friends. Gambler resides with his herd full-time. He is an excellent protector and treats his mares with respect, even looking after his foals for them. When his first crop of foals was weaned, we left Gambler to comfort them. He was very kind to his foals - tolerating their climbing and chewing on him and spending time playing with them and grooming them. When we pony his foals from his back and he ignores their goofy antics and keeps his mind on his task.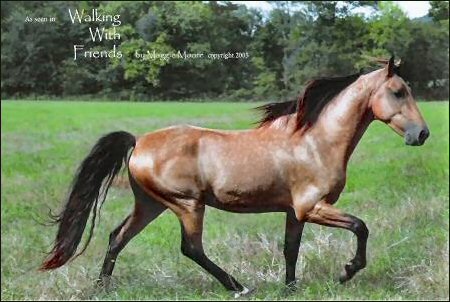 Gait.
Gambler is 100% naturally gaited. From the time he was at his dam's side he has exhibited a great way of going. Gambler has a 100% natural 4-beat running walk and a fantastic smooth, fast rack. He performs his gaits the way that the Walking Horse was meant to: with no artificial aids and no special technique required. He has never been shod and performs his gaits at liberty, as you can see from the photo at left. The photo was taken in 2005 by Maggie Moore for her book, Walking With Friends. Not only are his gaits smooth, but he is surefooted as well. He easily navigates steep inclines and declines and treads rough terrain carefully and precisely.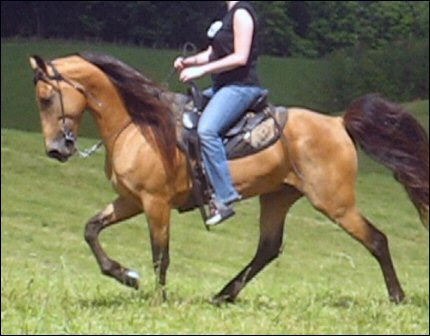 Color.
Gambler's striking color is the icing on the cake. He is a true gold with jet black points and silver frosting in his mane and tail (the frosting is believed to be caused by the same gene that gives you flaxen manes and tails on chestnuts). Gambler has been DNA tested by UC Davis. He is homozygous (AA) for the agouti (bay modifier). This means that he CAN NOT produce black or smokey black foals even when bred to black mares! Instead, he will produce buckskin or bay.
Color possibilities:
Black/Bay/Chestnut mares: chestnut, bay, palomino, and buckskin foals.

Smokey Black/Buckskin/Palomino mares: chestnut, bay, palomino, buckskin, cremello, or perlino foals.

Smokey Cream/Perlino/Cremello mares: palomino, buckskin, cremello, or perlino foals.

Classic/Amber/Gold champagne mares: chestnut, bay, palomino, buckskin, amber, gold, gold cream, or amber cream foals.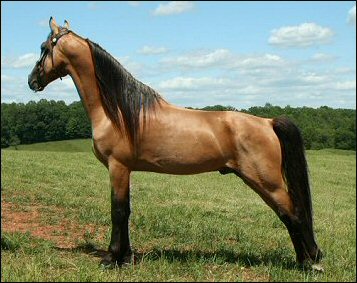 Conformation.
Gambler's conformation is excellent. His neck is absolutely perfect...it comes out of his shoulder just right and has a gorgeous natural arch to it. It is long, elegant, and shapely. His shoulder is large and sloping. His tail is set high and he carries it with a natural, old-time "waterspout arch." Gambler has an incredibly expressive face: his large, soft eyes help indicate his kind disposition; his muzzle is tapered, well formed and gives him an inquisitive look; his ears are shapely and expressive; his profile strong and refined at the same time. His hooves are as hard and strong as a mustang's. He can travel over gravel and rocky terrain barefoot without taking a lame step. His mane and tail are naturally long and full, but while he was taking care of his foals, they relieved him of some of his length and thickness.
Bloodlines.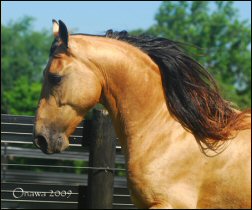 Gambler's bloodlines are a unique blend of the western working bloodlines through his sire, Blue Gold (who goes back to Roy Roger's own "Trigger Jr." aka Allen's Gold Zephyr), and the old eastern show lines through his dam, Cindy's Image-GH. We believe that this unique blend gave Gambler the best of both worlds. Not only is he a gorgeous, showy stallion, he's also a truly versatile and usable mount. Gambler's bloodlines are also unique in that he does not trace back to Pride of Midnight H.F. or The Pusher C.G. This makes him an EXCELLENT outcross for mares who are heavily linebred to those sires.
GOLDEN GAMBLER

TWHBEA #20112890
KMSHA #200607069
RHBAA #1012883
IPWHR #1454

DOB: 5/14/2001

COLOR: BUCKSKIN

GENOTYPE:
[Ee AA NCr]*

HEIGHT: 15H

Blue Gold
TWHBEA #905820
Color: CREMELLO
HEIGHT: 15.3H

Jetstar's Sunrider
TWHBEA #868692
COLOR: CHOCOLATE PALOMINO

Delight's Jetstar
TWHBEA #702623 COLOR: BLACK

SUN'S DELIGHT D.


TWHBEA #592116
COLOR: CHESTNUT

JET'S MAGIC LADY
TWHBEA #640084
COLOR: BLACK


MARKINGS: NEAR HIND SOCK, NEAR FORE FETLOCK, BLAZE.

Merry Man's Charm
TWHBEA # 698609 COLOR: Palomino

sun's merry man
TWHBEA #620157
COLOR: PALOMINO
MARKINGS: BOTH HIND STOCKINGS, STAR, SNIP, WHITE MANE AND TAIL.

MILLER'S GOLD


TWHBEA #581677




COLOR: PALOMINO




MARKINGS: OFF HIND SOCK, BLAZE, WHITE MANE AND TAIL.

Big Star's Gold Lady
TWHBEA #790692
COLOR: Palomino

Eldorado's Big Star
TWHBEA #662833 COLOR: BLACK
SUNS ELDORADO
TWHBEA #560160
COLOR: BLACK
MARKINGS: STAR

MIDNIGHT MOOSE MAID
TWHBEA #620101
COLOR: BLACK
Hero Merry Rose
TWHBEA #694854 COLOR: CHESTNUT
SUN'S HERO
TWHBEA #551047
COLOR: BAY
MARKINGS: OFF HIND FETLOCK, STAR.
MERRY YELLOW ROSE
TWHBEA #590180
COLOR: PALOMINO
MARKINGS: FOUR STOCKINGS, BALD, WHITE MANE & TAIL.
Cindy's Image - GH
TWHBEA #823206
COLOR: BAY
HEIGHT: 16H

Solitude's Eb Master
TWHBEA #685658 COLOR: BLACK
Ebony Masterpiece
TWHBEA #560586 COLOR: BLACK

SKIPPER SON MIDNIGHT
TWHBEA #463561
COLOR: BLACK
MARKINGS: STAR

LADY LEE
TWHBEA #400680
COLOR: BAY
MARKINGS: FOUR STOCKINGS, STRIP.

Go Boy's Lady Ann
TWHBEA #550330
MERRY GO BOY
TWHBEA #431336
COLOR: BLACK
MARKINGS: NEAR HIND SOCK.

Princess Ann
twhbea #500963
color: bay
markings: star
Threat's Cinderella
TWHBEA #730274
COLOR: BAY
Triple Threat
TWHBEA #612233 DOB: 5-1-1956
COLOR: Bay

SUN'S QUARTERBACK
TWHBEA #501780
COLOR: BAY
MARKINGS: NONE

TENSAS' GYPSY GIRL
TWHBEA #431345
COLOR: BAY
MARKINGS: BOTH HIND STOCKINGS, BLAZE.
Handshaker's Sue
TWHBEA #655566 COLOR: BLACK
MACK K'S HANDSHAKER
TWHBEA #561320
COLOR: BLACK
MARKINGS: STAR

Judy Wilson C.
twhbea #610899
color: chestnut
markings: none
Registrations.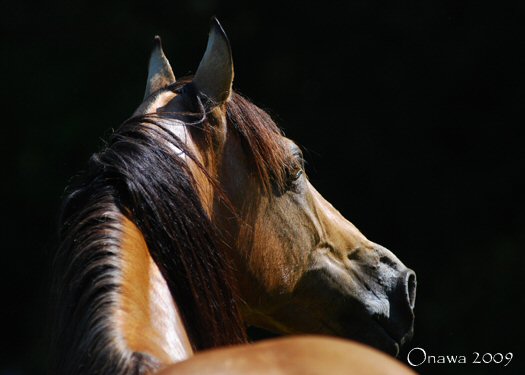 We do not require that mares bred to Gambler be registered, we judge each horse as an individual, not by papers. We would rather breed a high-quality gaited un-papered mare than a low quality papered mare. However, foals with papers are more valuable than those without. For that reason, Gambler is registered with several registries.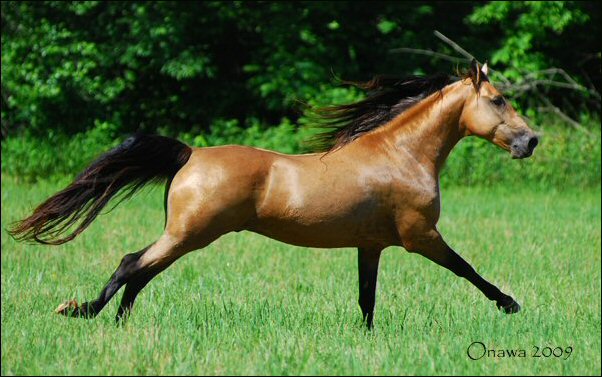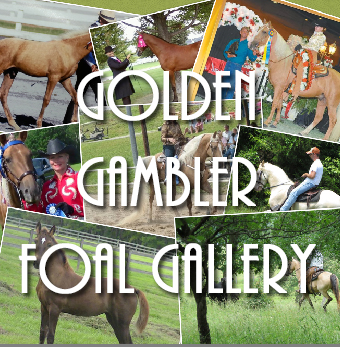 Prepotency.
The traits listed above are what made Gambler a "stallion prospect", but it is his proven ability to pass these traits on that have made him our herdsire and a true "breeding stallion." His foals have inherited more than just their sire's good looks and cream gene. His foals have inherited Gambler's natural gaits, disposition, personality, and intelligence. See Gambler's foal gallery for more information.
Breeding Information.
Golden Gambler's stud fee is $375/LFG and mare care is $15/day or $275/mo for pasture breeding. Live cover only. We are located in Locust Dale, Virginia. E-mail us or call Stephanie at 540-825-1300 for more information on breeding to Gambler.
Gambler In The Media.
In October 2009, the online magazine Going Gaited featured Gambler as the "Cover Horse" and as a featured Centerfold for the Mountain Horse Breed edition. Westwood Farms was featured as the Breeder of the Month.

The very talented artist Julie Zompanti did a fabulous pencil drawing of Gambler for us. Prints, Stationary and Note Cards featuring Gambler and others that Julie has sketched are available at JAZ Studios.

A photo of Gambler by Maggie Moore was selected for the cover of the 2006 National Bridle Shop Magazine. Additional photos of Gambler appeared in her 2006 book Walking With Friends.

Gambler is featured on the website "WV Walkers" (owned by Barb Foster) which promotes the cross of the Last Chance horses with Golden Gambler's line.

Westwood Farms - Locust Dale, Virginia 22948 - stephanie@westwoodfarms.net - 540-825-1300