Home | Stallions | Mares | Foals | Sold | Sales | Special Features | Links


Click on the foal's name for more information!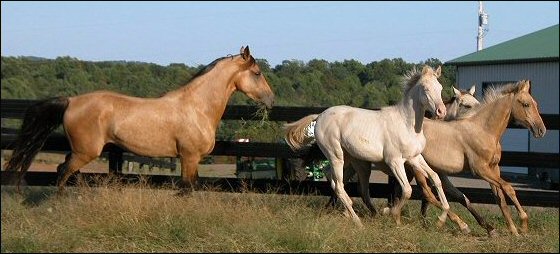 Gambler and 2005 colts, Gambler's Exotic Bet (perlino),
Gambler's Man of Pride WF (palomino), & Gambler's Texas Holdem WF (buckskin)
We know that only superior mares produce superior foals. That is why we have very carefully hand selected a few top quality mares. They were selected based on a combination of: conformation, disposition, gait, bloodlines, and then color. There mares represent some of the best bloodlines in the walking horse breed as well as true versatility. When we select a stallion to cross with our mares, we are careful to cross two horses that will improve upon each other to create a better foal. All of our foals are imprinted at birth and handled daily. We wean our foals between 3 - 6 months depending on the condition of the mare and foal. We typically wean stud colts a little earlier if they show signs of stallion-like behavior.
When we register our foals, we stamp the names of the foals that are a result of our carefully managed breeding program with "WF" to show our pride in these exceptional youngsters. If you purchase a foal from us before we register them, you may choose whether or not to use "WF" in your foal's name.
To reserve the foal of your choice, click here.
Westwood Farms 2012 Foals

Midas' Helen of Troy
Gambler's Midas Touch WF x Gen's Executive Lady
5-2-2012 Palomino Filly
SOLD!
Westwood Stallions


Westwood Farms
Locust Dale, Virginia 22948
stephanie@westwoodfarms.net