Chasing Trigger - His Doubles
From "An Illustrated History of TRIGGER" by Leo Pando
Buy it on Amazon!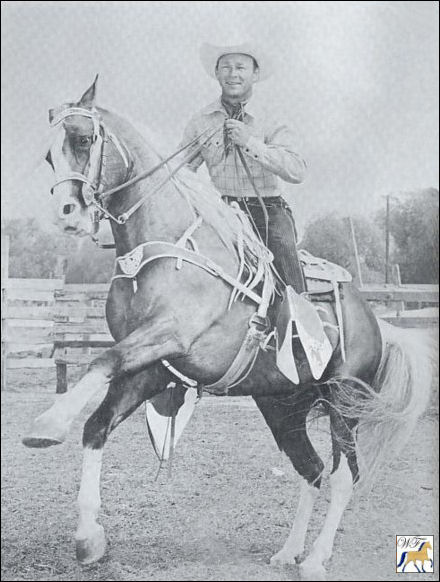 TRIGGER JR. and Paul K. Fisher
"During the shooting of the picture "My Pal Trigger," one scene called for the birth of a colt. The studio arranged to rent one from a California horse breeder, and the rancher was so pleased with the deal that he gave the colt to Roy when the picture was completed. Roy began training the young horse to become Trigger's understudy. He named him Trigger Junior. Later Roy and Glenn Randall took over the training, and Trigger Junior appeared in two pictures as Trigger's son."
This charming account of Trigger Jr's origin from the book "Roy Rogers - King of the Cowboys" by William Roper made a nice story for young fans. Unfortunately, like the two foals who were sired by Trigger in "My Pal Trigger," the story is a fantasy.
Rogers purchased Trigger Jr. much later in his career. Trigger Jr. was born in 1941 and died 28 years later in 1969. Trigger Jr. was originally owned by breeder O.C.Barker of Readyville, Tennessee. When Paul K. Fisher of Souderton, Pennsylvania, owned the gorgeous palomino, the animal was registered with the Palomino Horse Breeders Association (PHBA) as Allen's Gold Zephyr. Glenn Randall purchased the horse as Rogers' agent. The original registration was later canceled and the palomino was re-registered as Trigger Jr. by Roy Rogers of Hollywood, California. The horse was also registered with the Palomino Horse Association [PHA] and the Tennessee Walking Horse Association (TWHA).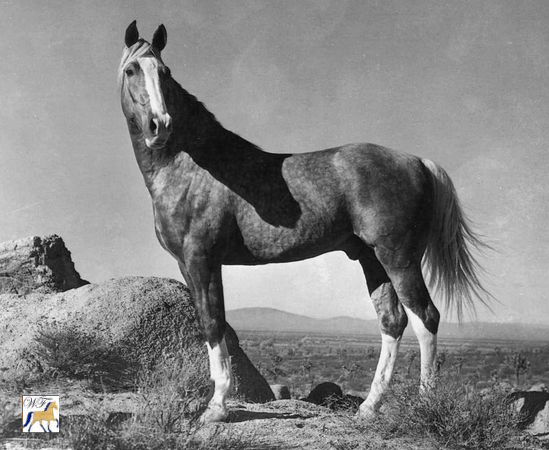 Allen's Gold Zephyr was sired by Barker's Moonbeam (registered with the Tennessee Walking Horse Breeders Association [TWHBA], color: (yellow) and he by foundation Tennessee walking stallion Golden Sunshine. Zephyr's dam was Fisher's Gray Maud (registered TWHBA, color: (gray) and she by Curlee's Spotted Allen out of Susie Hill. At five years of age Allen's Gold Zephyr stood 15.3 hands tall and weighed about 1050 lbs. He was described as dark golden in body color wit four evenly matched white stocking legs, blaze face, and white mane and tail.
...... The Tennessee walker had wonderful conformation and great looks. It's no wonder that his original owner, Paul Fisher, and Roy Rogers wanted to use the palomino as a breeding sire. ......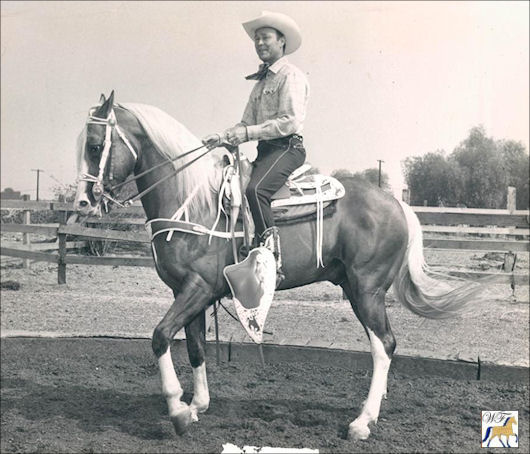 Trigger Jr. received billing on personal appearance tours. Marquees read, "Roy Rogers, Trigger, and Trigger Jr." Glenn Randall taught Trigger Jr. a full range of crowd-pleasing tricks including how to dance. Beyond the movie that bears his name in the title, "Trigger Jr." was not used in films but extensively in personal appearances throughout the 1950s and 1960s. On certain occasions he was used as a double for Trigger. Copies of an old Perry Como television show are in circulation with an appearance by Roy Rogers, Dale Evans, and "Trigger." It's in fact Trigger Jr. standing in. When author David Rothel asked Rogers about using Trigger Jr. in movies, he replied, "Very little, we used him for personal appearances. He wasn't worth a nickel as a cowboy horse, but he could do a beautiful dance routine."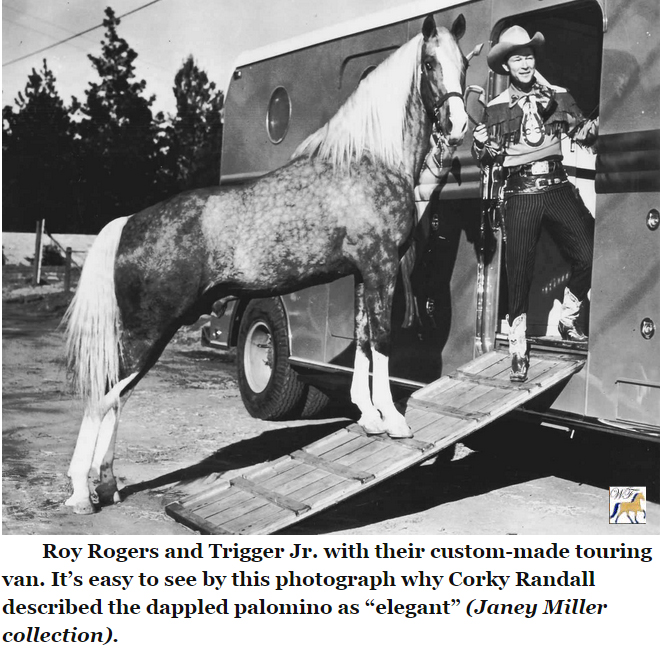 At one time Fisher Farms was considered one of the largest palomino breeding farms in the United States. Before Roy Rogers, Hoot Gibson and Tom Mix were customers of Fisher's. Paul Fisher often took his horses to Madison Square Garden Rodeo to show and sell them. Fisher's palominos were in great demand, as Roy Rogers found out when he tried to buy Allen's Gold Zephyr. Rogers stated that it took him six years to buy Trigger Jr. Fisher had many offers besides the one from Rogers. At first Fisher refused because the horse was so important to his breeding program. Rogers really fell in love with Trigger Jr. during the filming of the movie that bears the palomino's name, but Fisher had still not agreed to sell him. Fisher allowed Rogers to use Trigger Jr. in personal appearances, according to Corky Randall.
It has been said that Trigger Jr. and Buttermilk had stalls in the first Roy Rogers and Dale Evans Museum when it opened in 1966 in Apple Valley, California, and lucky visitors during the first three or four years got to see them in the flesh. Rogers used Trigger Jr. as a stud and raised some good palomino foals on his Happy Trails Ranch in Oro Grande, California. The horse that actor Val Kilmer led on stage as a tribute to Rogers and his B-western cowboy peers during the Academy Awards show in March 1999 was reportedly a descendent of "Trigger." Since Trigger was never bred, this horse - if descended from any of Rogers' horses - was most likely a descendant of Trigger Jr.
For many years, Rogers also raised and trained Thoroughbred race horses at his Happy Trails Ranch. Run Trigger Run took first place in his maiden race. Another Rogers race horse was called Triggero. In October 1993, he auctioned the last of his herd, which included grandsons and granddaughters of Trigger Jr. The palomino sired several foals that were registered with TWHBA, and his bloodline continues today.